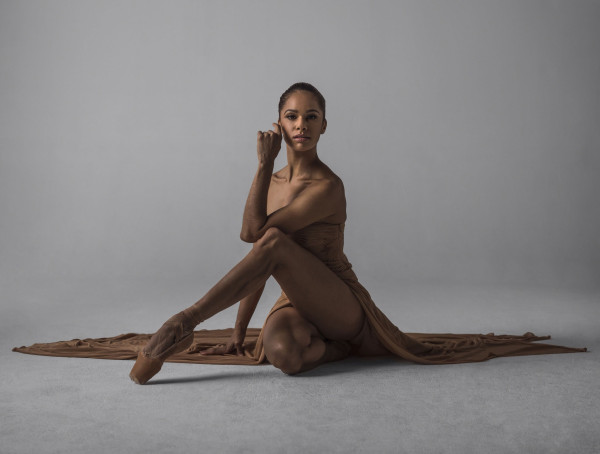 By now, you know who Misty Copeland is. The ballerina made headlines when she ascended into the pantheon of  principal dancers at the American Ballet Theater, the first African-American woman ever to do so. But even before her promotion, her fame spread far beyond the gilded walls of the theater. From the raging custody battle that encapsulated her as a teen, to touring with Prince, Misty didn't glide onto the scene. She leaped.
As a pioneer, Misty's star is unparalleled, but she is not the only Black ballerina blazing new trails. In cities across the globe, from Los Angeles to Hong Kong, Black women are quietly shattering stereotypes, and scaling the ranks of predominately white ballet companies. They, too, have inspiring stories that must be shared, because as Misty Copeland proves, there is power in visibility.
1. Olivia Boisson, New York City Ballet
Olivia Boisson of Queens, New York, is currently the only African-American female dancer with the New York City Ballet. Established by legendary choreography George Balanchine in 1933, and housed in New York City's Lincoln Center, the New York City Ballet is considered by many to be the pinnacle of dance in America. While enrolled at the School of American Ballet, the official school of NYCB, Olivia received the coveted Mae L. Wien award, given to advanced students who demonstrate outstanding promise. She is the fifth Black woman to dance with the company, and the first since the departure of Aesha Ash in 2003.
2. Michaela DePrince, Dutch National Ballet
Michaela DePrince's journey from war-torn Sierre Leone to center stage is nothing short of miraculous. Rebels killed her father when she was three years old. Days later, her mother died of starvation. As a toddler, she discovered a photograph of a smiling ballerina blown up against the gate of her orphanage. Captivated by the woman's tutu and pointe shoes, Michaela held on to the photo, and began to dream of a better life.
Destiny intervened when an American couple adopted her. After relocating to States, Michaela began training with The Rock School in Pennsylvania. Some ballet instructors deterred her, citing her muscular frame and speckled brown skin as anathema to the ballet world. Michaela pressed on. She rose to fame in 2011 when a film crew chronicled her entry in the prestigious Prix de Lausanne ballet competition for the award-winning documentary, First Position. After graduating from American Ballet Theater's Jacqueline Kennedy Onassis School, she performed with the Dance Theatre of Harlem for a year before joining the Dutch National Ballet.
3. Precious Adams, English National Ballet
Precious Adams made headlines in 2011 when she moved to Moscow to study with the Bolshoi Ballet, one of the oldest and foremost ballet institutions in the world. As the sole brown face in the academy, Precious encountered fierce discrimination. Regularly passed over for performances, one teacher even encouraged her to "try to rub the Black off." Precious persevered, becoming one of the first African-American ballerinas to graduate from the school.
Armed with superior technique and classic lines, she has since taken the ballet world by storm. She received two top prizes at the 2014 Prix De Lausanne in Switzerland, and accepted an invitation to dance with the English National Ballet in London. The Michigan native has studied ballet in renowned institutions throughout the world, including the National Ballet School in Toronto and The Princess Grace Academy in Monte Carlo. So, not only does she do a mean pirouette, but she can speak French and Russian too.
4. Jasmine Perry, Los Angeles Ballet 
Jasmine Perry was featured in the Teen Vogue web series Strictly Ballet which chronicled her experience as an advanced student at the prestigious School of American Ballet. A native of North Carolina, she began her training with Charlotte Ballet (formerly North Carolina Dance Theater) where she  danced the lead in The Nutcracker. At 15, she moved to New York City after being invited to train with the School of American Ballet full time. In her final year, Perry shined in the school's annual workshop, dancing the lead in George Balanchine's Discord and War. Upon graduation, she joined the Los Angeles Ballet.
5. Francesca Hayward, The Royal Ballet
Francesca Hayward has been touted as "a firefly among moths" and "the next great British Ballerina." The 22 year-old soloist with the Royal Ballet is being fast tracked into principal roles. Much like her American counterpart, Misty Copeland, Francesca's brilliant dancing continues to attract attention from critics and smitten fans all over the United Kingdom.
Francesca was born in Nairobi to an English father and Kenyan mother. She moved to Sussex as a toddler, and soon after began dance lessons. At age 18, she was one of a handful of students to graduate from the Royal Ballet School into the company.
6. Awa Joannais, Paris Opera Ballet
Awa Joannais was a standout student at the Paris Opera Ballet School before winning a coveted apprenticeship with the company last Spring. Founded in 1669, the Paris Opera Ballet company is the oldest in the world. Awa is the first woman of African descent to join.
7. Nicole Zadra, Hong Kong Ballet
Nicole Zadra's journey from New York to the world stage is a testament to perseverance and the power of social media. When the Bolshoi Ballet Academy offered Nicole a year-long traineeship, her excitement fizzled when she realized the $16,000 tuition more than she could afford. Taking a leap of faith, Nicole set up a GoFundMe page and  sent a heartfelt email to her idol, Misty Copeland. When Misty posted Nicole's  email to her Facebook page, donations began rolling in. She received a huge donation from Questlove of The Roots, who even used his celebritydom to appeal for more donations. Needless to say, Nicole raised the money she needed, completed her training at the Bolshoi, and upon graduation, landed a spot with the Hong Kong Ballet.
8. Kimberly Braylock, San Francisco Ballet
A New Jersey native, Kimberly received a full scholarship to the San Francisco Ballet school before earning a spot in the company in 2010.  Since then, she's toured in London and China, and danced  featured roles in The Nutcracker and in Christopher Wheeldon's Cinderella. In her spare time, Kimberly models for Discount Dance Supply, a popular dance wear catalog. She recently married San Francisco Ballet Orchestra musician Rufus Olivier.
9. Dara Holmes, The Joffrey Ballet
Dara Holmes is a mesmerizing dancer with a tragic past. When she was three, she pointed to a picture of a ballerina and said, "Mama, teach me this." Dara was eager to dance, but formal lessons were out of the question for her cash-strapped family. That is, until five years later when Dara attended an outreach program at the Wilmington School of Ballet. The school's owner, Elizabeth Hester, took notice of Dara's innate ability and awarded her a scholarship for as long as she needed. But several years later, a life-changing event threatened to derail all that she'd accomplished.
On a November night in 2004, she and her mother were driving to a dance rehearsal when a speeding car struck theirs. Dara broke her collarbone. Her mother was killed. Plagued with feelings sorrow and guilt, Dara poured herself into her craft, treating dance like therapy. She won a scholarship to train with the prestigious Harid Conservatory where she spent three years polishing her skills. After graduation, she earned a spot with The Joffrey Ballet where she has since performed lead roles in Cinderella, Swan Lake, Paquita and Le Corsaire.
10. Katlyn Addison, Ballet West
Katlyn Addison hails from Ontario, Canada. She danced briefly with The Houston Ballet before joining Ballet West in 2011. In 2014, she was promoted to demi-soloist. An emerging choreographer, an original piece of hers, The Hunt, a ballet set to percussion, premiered in 2015 with Ballet West. In her spare time, she also models for Elevé dance wear.
Read more: http://atlantablackstar.com/2015/07/07/10-black-ballerinas-other-than-misty-copeland-who-are-also-changing-the-face-of-ballet/