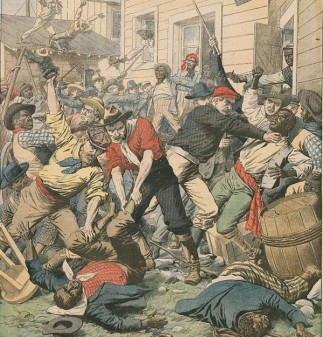 The Atlanta Race Riot or Atlanta Riot of 1906 was the first race riot to take place in the capital city of Georgia. The riot lasted from September 22 to September 24 and was the culmination of a number of factors, including lingering tensions from reconstruction, job competition, and black voting rights.
Read on for other important facts about the Atlanta Race Riot:
1. Before the 1906 riot, Atlanta was viewed as one of the few Southern American cities where blacks and whites could live in harmony. Some White leaders reached out to the black elite, but in the aftermath of the violence the city became increasingly socially and racially stratified.
2. By the early 1900s, the population in Atlanta doubled to 89,872 from its 1880 level, and the black population nearly quadrupled during that period. 3. Job competition became intense and white politicians responded by implementing and expanding Jim Crow laws.
4. Despite some obstacles, some African American families achieved a significant measure of success. Black men voted during Reconstruction and continued to do so after their counterparts were pushed off the rolls throughout the rest of the South.
5. White citizens were uncomfortable with the rising status of the middle class blacks, they become wary of rising crime rates and the threat of black men against black women.
6. On September 22, after four alleged sexual attacks on white women by black men were reported in the local white press, a mob of approximately 10,000 white men formed downtown. The Georgian Newspaper suggested that eleven assaults on white women by black men had occurred within the past seven weeks before the riot.
7. It was estimated that the number of blacks killed was between 25 and 40, while two white Americans were killed. Hundreds more people were injured or saw businesses and homes destroyed.
8. Policemen did little to stop the carnage; in several instances they aided the rioters, who stalked blacks past midnight.
9. Streetcar lines were cut and several blacks dragged from the cars on Peachtree and clubbled to death.
10. After the riot, residential neighborhoods became increasingly racially isolated and blacks were turned away from the previously popular accommodationist philosophies of Booker T. Washington in favor of more aggressive approaches to civil rights.
source:
http://www.sweetauburn.us/rings/raceriot.htm
http://www.blackpast.org/aah/atlanta-race-riot-1906