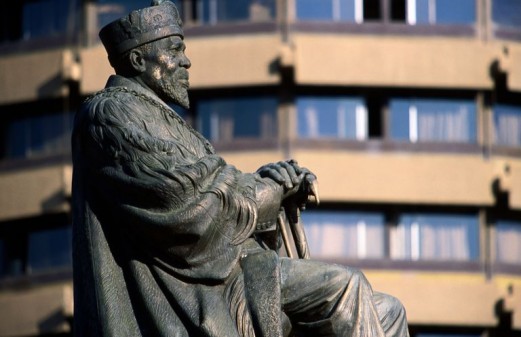 Jomo Kenyatta was the first President of Kenya and a prominent leader for independence. He also governed Kenya as its Prime Minister from 1963 to 1964 and then as its first President from 1964 to 1978. He was the country's first black head of government and played a significant role in the transformation of Kenya from a colony of the British Empire into an independent republic.
Read on to learn more astonishing facts about Jomo Kenyatta:
1. Kenyatta was born Kamau in the early 1890s, though he maintained throughout his life that he did not remember the year of his birth.
2. His parents were Moigoi and Wamboi. His father was the chief of a small agricultural village in Gatundu Division of the Kiambu District
died when Kenyatta was very young and he was, as custom dictated, adopted by his uncle Ngengi to become Kamau wa Ngengi.
3. His mother died giving birth to a boy, James Moigoi. Young Kamau then moved to live with his grandfather, Kungu Mangana, who was a noted medicine man in the area.
4. Kamau suffered a jigger infection at the age of 10. He underwent surgery on his arms and one leg.
5. In August of 1914, Kamau was baptized at the Church of Scotland mission. He initially took the name John Peter Kamau but changed it to Johnson Kamau.
6. He met and married his first wife Grace Wahu in 1919, according to Kikuyu tradition. When it became apparent that Grace was pregnant, church elders ordered him to get married before a European magistrate and undertake the appropriate church rites.
7. Kamau once served as an interpreter in the Nairobi High Court and ran a store out of his Dagoretti (an area of Nairobi) home.
8. Kamau adopted the name Jomo (a Kikuyu name meaning 'burning spear') Kenyatta in 1922.
9. He joined the East African Association (EAA). The organization campaigned for the return of Kikuyu lands given over to white settlers when the country became the British Crown Colony of Kenya in 1920. EAA disbanded under governmental pressure in 1925.
10. Kenyatta is considered the Father of the Nation and given the honorary title of Mzee.
source:
http://www.newworldencyclopedia.org/entry/Jomo_Kenyatta