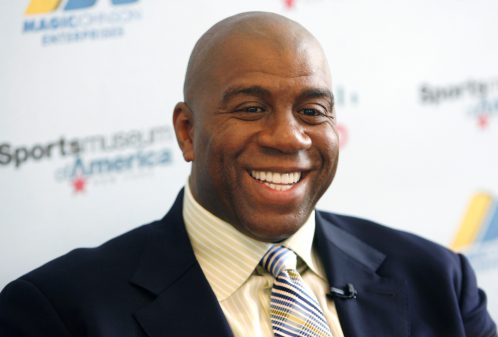 Earvin "Magic" Johnson Jr., is a retired professional basketball player who played as a point guard for the Los Angeles Lakers of the National Basketball Association for 13 seasons. Johnson stunned the world when he abruptly retired from the game after announcing he had contracted HIV. However, 25 years after his announcement, he has gone on to do remarkable work throughout communities as an advocate for HIV/AIDS prevention. He is also an entrepreneur, philanthropist, broadcaster, and motivational speaker.
Here are a few other inspiring facts you might want to know about Magic Johnson:
1. Earvin Johnson, Jr. was born in Lansing, Michigan, to Earvin Sr., a General Motors assembly worker, and Christine, a school custodian. He is one of six children.
2. After winning championships in high school and college, Johnson was selected first overall in the 1979 NBA draft by the Lakers.
3. He won a championship and an NBA Finals Most Valuable Player Award in his rookie season, and won four more championships with the Lakers during the 1980s.
4. Johnson retired abruptly in 1991 after announcing that he had contracted HIV, but returned to play in the 1992 All-Star Game, winning the All-Star MVP Award.
5. He retired for four years, but returned in 1996, at age 36, to play 32 games for the Lakers before retiring for the third and final time.
6. Johnson's career achievements include three NBA MVP Awards, nine NBA Finals appearances, twelve All-Star games, and ten All-NBA First and Second Team nominations.
7. Johnson became a two-time inductee into the Basketball Hall of Fame -— being enshrined in 2002 for his individual career, and again in 2010 as a member of the "Dream Team."
8. Since his retirement, Johnson has been an advocate for HIV/AIDS prevention and safe sex. At the time he learned he had the disease, his wife Cookie was pregnant with their first child. Both his wife and son, Earvin III, turned out to not have HIV.
9. He was named by Ebony magazine as one of America's most influential black businessmen in 2009
10. Johnson has numerous business interests, and was a part-owner of the Lakers for several years. Johnson also is part of a group of investors that purchased the Los Angeles Dodgers in 2012 and the Los Angeles Sparks in 2014.
sources:
http://www.biography.com/people/magic-johnson-9356150#!
http://magicjohnson.com/