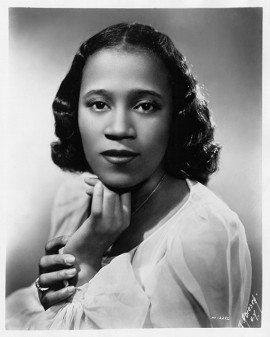 Camilla Ella Williams was an African-American Opera Singer (Operatic Soprano) who amazingly performed locally and internationally. Williams studied from some of the renowned teachers of the New York City who did extreme hard work on such a brilliant student. She was the very first African-American who received a major contract from an American opera company, "The New York City Opera". She has proudly won honors in different vocal competitions and also the Marian Anderson Fellowship which was for the years 1943-1944. There are many interesting facts that are related to this amazing opera singer but we have selected 10 of them just to give you a sneak peak of her. Let's see what information we have gathered for you this time:
Camilla Williams was born on October 8, 1919, and died on January 29, 2012. She was the first African-American opera sensation to sing for the Vienna State Opera.
She has also performed with various soloist European Orchestras that added some major achievements in her career.
She was born in Danville, Virginia, to a chauffeur named Cornelius Booker Williams and laundress Fannie Carey Williams. She was the youngest of all four children of Williams's family.
Williams grew up in a neighborhood that was quite poor but the family had a strong musical influence. Music was in their blood, as her grandfather Alexander Carey used to sing and was a choir leader.
Williams first performed at coast-to-coast RCA Radio station in the beginning of 1944 and in 1946 she got a major break by receiving a contract with America Opera Company.
Camilla Williams got married to Charles T. Beavers in 1950 that was a civil rights lawyer and was also in close contact with Malcolm X but he, unfortunately, died in 1969.
Later on, from 2000 to 2011, Williams started with a live-in-relationship with her companion Boris Bazala who was from Bulgaria.
In 1996, she was awarded as the Outstanding African-American Singer/Pioneer by the great Harvard University.
In 2000, all her career as the African-American opera singer was registered in Aida's Brothers and Sisters: Black Voices in Opera, a documentary aired in February 2000.
She was also awarded the President's Medal of Excellence by the Indiana University in September 2009.
Article Link: