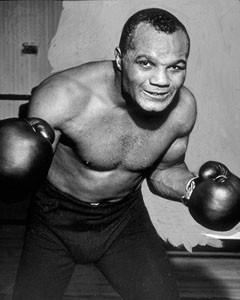 Professional boxer "Jersey Joe Walcott, competed from 1930 to 1953. He held the world heavyweight title from 1951 to 1952, and broke the record for the oldest man to win the title, at the age of 37. The record was eventually broken in 1994 by 45-year-old George Foreman.
Check out these other amazing facts about The Barbados Boxing Demon Jersey Joe Walcott:
1. Born Arnold Raymond Cream in Pennsauken, New Jersey. His father was an immigrant from St. Thomas, Danish West Indies and his mother from Jordantown, New Jersey.
2. Was 15 years old when his father died, which led him to quit school and work in a soup factory to help support his mother and siblings. He began training during this time also as a boxer and took the name of his boxing idol, Joe Walcott, a welterweight champion from Barbados. He added "Jersey" to distinguish himself and show where he was from.
3. Made debut as a professional boxer occurred on September 9, 1930, fighting Cowboy Wallace and winning by a knockout in round one. After five straight knockout wins, in 1933, he lost for the first time, beaten on points by Henry Wilson in Philadelphia.
4. Fought Joe Louis on December 5, 1947, at thirty-three years of age breaking the record as the oldest man to fight for the world heavyweight title. Despite dropping Louis in round one, and again in round four, he lost a 15-round split decision.
5. Rematch was granted and on June 25, 1948, Jersey was dropped again, Louis prevailed by a knockout in round 11.
6. Given another chance to become world heavyweight champion, when he and Ezzard Charles met for the title left vacant by Louis. However, Charles prevailed, winning by decision in 15 rounds.
7. Determined to become a champion went on, and in 1950, he won four of his five bouts, including a three-round knockout of future world light heavyweight champion Harold Johnson.
8. Fought Ezzard Charles for second time on March 7, 1951, and again Charles won a 15-round decision to retain his world title. But on July 18, he joined a handful of boxers who claimed the world title in their fifth try, when he knocked out Charles in seven rounds in Pittsburgh, to finally become world heavyweight champion, at the relatively old age of 37. This made him the oldest man ever to win the world heavyweight crown (a distinction he would hold until George Foreman won the title at age 45 in 1994.
9. After boxing career, worked for the Camden County corrections department. In 1968, he ran for Sheriff of Camden County, but lost in the Democratic primary to Spencer H. Smith, Jr.
10. Walcott died on February 25, 1994.
sources:
http://boxrec.com/media/index.php/Jersey_Joe_Walcott