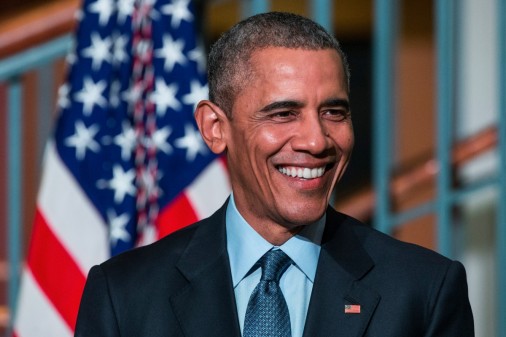 Former American President Barak Obama has not only been praised but loved by millions of people in America and around the world. During his presidency, he has done many things beyond the expectation of the local people. He is well-known for his perfect personality and down-to-earth attitude. He won million of hearts just by respecting women and loving children. He also showed great respect to elderly people and always encouraged the youth. Obama is no doubt a role model for many who seek the inspiration of good personalities.
We have jotted down about 10 reasons that will make you love this amazing personality:
Obama brought back the sexiness in White House. Whenever a celebrity was invited to the house, he used to outshine among the respected guests in his black suit and tie.
Obama is a selfie king and loves to take selfies, not of himself but with anyone who joins him. This shows how well he respects others.
He has collaborated with many TV comedians and has beautifully played his part that elevated him above his gaze.
Obama has never disappointed while delivering a speech. He has always won people's faith with true speech and dignity.
He loves to interact with his fans through different social media portals.
Obama has shown his wittiness while appearing in many TV shows. This shows that he knows the skill to make everyone laugh.
He is not at all ashamed to show his affection towards his wife publically. He has always been seen holding hands with his wife Michelle Obama and by appearing side by side in public. He has always shared encouraging words for his wife on different social media accounts.
He is probably not a contender for X-factor or American Idol but Obama is a good singer. He knows how to hold different notes.
He doesn't need to pretend that he is cool. He is one of the chilliest Presidents who has never taken anything on his nerves.
He loves being friends and has a close relationship with Jay Z and Beyonce. He is well-known for his friendly nature and calm attitude and these things certainly make us love this amazing personality.
Article Source Links: