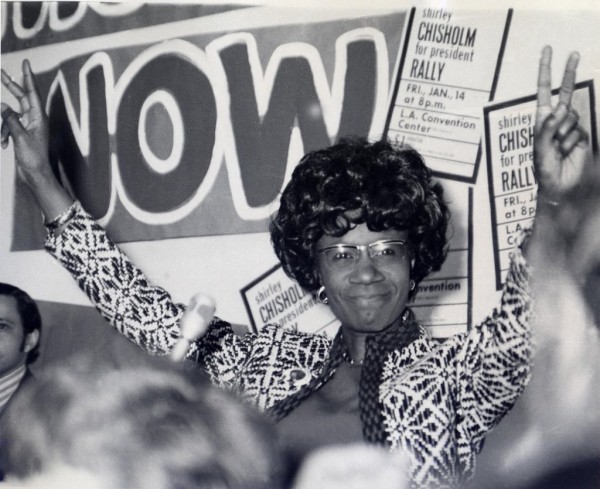 Sojourner Truth's 'Ain't I a Woman?'
Truth's speech from 1851 is quoted frequently and gives a bold message about equality for all women during a time when racism ravaged America. During the speech, Truth repeatedly asks the question, "And ain't I a woman?" after recalling the different treatment she received as a woman compared to her white female counterparts.
"That man over there says that women need to be helped into carriages and ditches, and to have the best place everywhere. Nobody ever helps me into carriages, or over mud-puddles, or gives me any best place! And ain't I a woman," Truth says in the speech. "Look at me! Look at my arm! I could have ploughed and planted, and gathered into barns, and no man could head me! And ain't I a woman?"
Josephine Baker at the March on Washington
Many people knew Baker as nothing more than a showgirl, but when she came to the U.S. from France to attend the March on Washington, her remarks in 1963 reminded the nation that she was also a lifelong activist. She recalled her experiences with racism and backlash for her controversial skin-bearing ensembles and how the fear it struck in her caused her to run away to France. She then compared the U.S. to her time in France and said it was like a "fairyland place." What really drove the speech home, however, was when she explained the juxtaposition between being allowed to perform for and meet royalty but in America she was still not allowed to "get a cup of coffee."
"You know, friends, that I do not lie to you when I tell you I have walked into the palaces of kings and queens and into the houses of presidents. And much more. But I could not walk into a hotel in America and get a cup of coffee, and that made me mad. And when I get mad, you know that I open my big mouth. And then look out, 'cause when Josephine opens her mouth, they hear it all over the world."
Coretta Scott King's '10 Commandments of Vietnam'
Coretta Scott King is remembered by many as the wife of Martin Luther King Jr., but she was also an activist and author in her own right. She delivered her own powerful speeches and captivated audiences, but one of her most important speeches came when she spoke in the place of her husband after he had been assassinated. In the midst of her grief in 1968, she delivered the 10 commandments that King wrote down before his death. These commandments included "Thou shalt not believe in a military victory," "Thou shall not believe in a political victory," "Thou shall not believe that the majority of the South Vietnamese look upon the Vietcong as terrorists," and, of course, "Thou shall not kill."
She continued to point out all the progress that had been made even a year after King was killed. However, she also encouraged the masses to stay focused and take a serious look at political issues such as welfare and exploitation of cheap labor.
Ida B. Wells' 'This Awful Slaughter'
In 1909, Wells delivered a powerful speech at the NAACP's first annual conference that busted the myth that lynchings were happening to protect women. "Crimes against women is the excuse, not the cause," she explained in the speech.
"What is the cause of this awful slaughter? This question is answered almost daily — always the same shameless falsehood that 'Negroes are lynched to protect womanhood'… This is the never-varying answer of lynchers and their apologists. All know that it is untrue. The cowardly lyncher revels in murder, then seeks to shield himself from public execration by claiming devotion to a woman. But truth is might and the lynching record discloses the hypocrisy of the lyncher as well as his crime."
Fannie Lou Hamer's 1964 Convention Committee Testimony
Hamer almost died as she pushed for the right to vote. She was one of many activists who were mercilessly beaten and jailed during their efforts to register to vote. During a speech in 1964, she delivered a passionate testimony about the brutal attacks she endured by officers, the hateful, racist speech that was spewed at protesters and how bullets pierced her home on a night when many other Blacks were murdered in gunfire. She ended her speech by asking a powerful question: "Is this America, the land of the free and the home of the brave, where we have to sleep with our telephones off the hooks because our lives be threatened daily, because we want to live as decent human beings, in America?"
Shirley Chisholm Introduces Equal Rights Amendment to Congress
As a member of Congress, Chisholm was able to take the Equal Rights Amendment further than it had ever gone before. Chisholm re-introduced the legislation 40 years after it was first proposed, and her fiery delivery in 1969 made her message one that Congress couldn't ignore.
Chisholm pointed out that the existing laws at the time were "not adequate to secure equal rights for women."
"Sufficient proof of this is the concentration of women in lower-paying, menial, unrewarding jobs and their incredible scarcity in the upper level jobs. If women are already equal, why is it such an event whenever one happens to be elected to Congress?" Chisholm said during the speech. "It is obvious that discrimination exists. Women do not have the opportunities that men do. And women that do not conform to the system, who try to break with the accepted patterns, are stigmatized as 'odd' and 'unfeminine.' The fact is that a woman who aspires to be chairman of the board, or a member of the House, does so for exactly the same reasons as any man. Basically, these are that she thinks she can do the job and she wants to try."
Barbara Jordan's Democratic Convention Keynote
Jordan was the first African-American since Reconstruction to be elected to the Texas Senate and the first Black female from the South to be elected to the U.S. House of Representatives. Jordan knew that just by speaking at the Democratic National Convention back in 1976 she was making history.
"But there is something different about tonight. There is something special about tonight. What is different? What is special," she asks during the speech before answering herself.
"I, Barbara Jordan, am a keynote speaker," she said. "When — A lot of years passed since 1832, and during that time it would have been most unusual for any national political party to ask a Barbara Jordan to deliver a keynote address. But tonight, here I am. And I feel — I feel that notwithstanding the past that my presence here is one additional bit of evidence that the American Dream need not forever be deferred."
Viola Davis' 2011 Speech at Women in Hollywood Awards
Davis has always been a bold presence in Hollywood. When she attended Elle magazine's Women in Hollywood Awards in 2011, she had no problem using her platform to address the lack of celebrated Black faces. On the red carpet, an interviewer asked Davis what set her apart from everyone else at the awards. She responded, "Well, I'm Black."
Later that night, Davis delivered a speech that was more than 10 minutes long as she accepted her award. Early in the speech she warned that she did not have a speech prepared, but that didn't stop her from delivering a beautiful, powerful message.
"I believe and I really hope that we have the imagination, that we have the courage to bring those stories to life, because I want to do for other young women of color what Cicely Tyson did to me in that apartment with the slats showing underneath the plaster, and the bad plumbing, and no phone, and hardly any food, and rats … she allowed me to have the visual of what it means to dream … she threw me a rope. That's what we do as actors. … we throw other people the rope."
She also now famously said that it is "hope" that keeps her in the acting business. "What keeps me in the business is hope, and that's the hope that women of color are also a part of the narrative, that our stories are just as potent, because we also have the power of transformation. We also have the power to be quirky, and sexy, and different, funny, heartfelt and all of those things."
Michelle Obama's 2011 Keynote Address to Young African Women Leaders
Obama made history as the nation's first Black first lady. It wasn't long before she emerged as an extremely powerful voice in fighting childhood obesity, promoting healthy living for all Americans and embracing young Black women who hope to be leaders in their own right one day.
In 2011, she spoke to 76 young African women leaders in Regina Mundi Church in Soweto, South Africa, which was a famous refuge for anti-apartheid protesters. During the speech, she inspired the young women to hold their leaders accountable, push for "honest government at every level," and protect "the rights of every citizen to speak freely, to worship openly, to love whomever they choose."
She continued to say, "You can be the generation to ensure that women are no longer second-class citizens, that girls take their rightful places in our schools. You can be the generation that stands up and says that violence against women in any form, in any place — including the home — especially the home — that isn't just a women's rights violation. It's a human rights violation. And it has no place in any society. You see, that is the history that your generation can make."
Shonda Rhimes' 2014 Commencement Speech at Dartmouth
For many people, it comes as no surprise that the woman behind Grey's Anatomy, Scandal and How to Get Away With Murder also delivered one of the most amazing commencement speeches 2014 had to offer. Rhimes' speech at Dartmouth was a brutally honest message for the graduates that slammed the notion that they need to keep dreaming and bashed hashtag activism.
"Dreams are lovely. But they are just dreams. Fleeting, ephemeral, pretty. But dreams do not come true just because you dream them. It's hard work that makes things happen. It's hard work that creates change. … You want to be a writer? A writer is someone who writes every day, so start writing. You don't have a job? Get one. Any job. Don't sit at home waiting for the magical opportunity. Who are you? Prince William? No. Get a job. Go to work. Do something until you can do something else."
She then addressed the trend of "hashtag activism" and encouraged the youth to remember to be active offline even more than they are online.
"A hashtag doesn't make you Dr. King. A hashtag does not change anything. It's a hashtag. It's you, sitting on your butt, typing on your computer and then going back to binge-watching your favorite show. … Focus on something outside yourself. Devote a slice of your energies toward making the world suck less every week."
Other key messages throughout the incredible speech were to count your blessings, focus on being yourself, realize perfection is impossible and understand that even the greatest people can't achieve greatness without help and assistance from loved ones.
Read more: http://atlantablackstar.com/2015/01/02/10-speeches-black-women-everyone-needs-read/