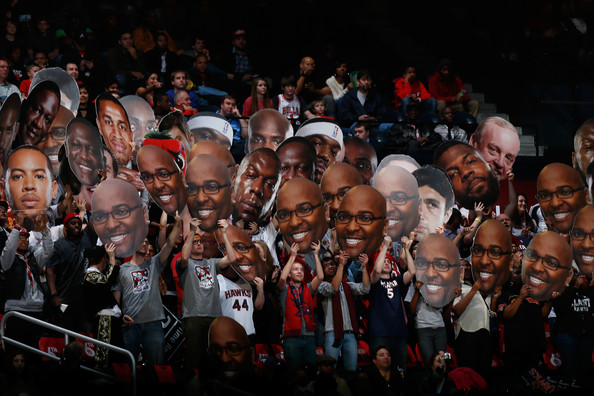 By: Thomas Ghebrezgi, blogger and writer
While we as a people have been recognized for our contributions to professional sports, what about those patient, long-suffering fans on the other side of the ball? Here is our top 10 list of teams with the most African American support.
10. Baltimore Ravens
No, I don't know how the grass got there either
They may have had a rough season, approaching their season finale with a 5-10 record, but the Baltimore Ravens are still widely popular in the surrounding Maryland area. With a Super Bowl in the 2012 season, and a steadily competitive team for years, it's no wonder.
9. St. Louis Cardinals
"You're safe," Jason Heyward said to himself, alone.
I have heard people gripe about the lack of African-American players on the roster, as well as fans in the stands. Coming from a family of rabid (black) Cards fans, I find this hard to believe. The sport as a whole could do a better job of recapturing black fans, but I challenge you to walk down any street in St. Louis and not see African Americans repping their team.
8. Cleveland Cavaliers
I'm only number 8 on this list? That's funny.
Yes, it has almost everything to do with LeBron James. But African American fans in the state of Ohio have rewarded their teams on the field success with ferocious passion and loyalty. They sport the second highest attendance rate in the league. Plus, y'know, LeBron James.
7. Chicago Bulls
Little boy, please let the man watch the game!
The Cavs inter-divisional rivals also make this list. The Bulls are the most popular team in Gotham according to an analysis of their social media following. Also, our commander in chief is a fan! Plus, y'know, Michael Jordan.
6. Dallas Cowboys
"Make sure you get my good side."
The Cowboys get on this list by virtue of their popularity outside of the actual city. The Dallas team has a dedicated, if long-suffering, fan base stretching from Nevada all the way to Arkansas, with most of the country in between.
5. Atlanta Falcons
From mediocrity!
The Atlanta metropolitan area has the second largest concentration of African Americans outside of New York City. Falcons fans come out in droves to support their team, even though they've tailed off a bit in recent years.
4. Atlanta Hawks
They're sort of like the Big Three Lite.
Speaking of Atlanta, the Hawks have become the best show in town. They've been competitive over the last few years, sparking a wave of renewed interest among black sports fans.
3. New York Knicks
"It's gotta be the shoes Melo!"
How 'bout those Knicks? The Knicks are a storied franchise that has one of the most loyal African American fan bases in all of professional sports. Regardless of how their team performs, Knicks fans will show up and cheer their heads off. Just ask Mars Blackmon, pictured above.
2. New Orleans Saints
Nothing to say here, just fans supporting their team.
Who Dat?!?!?!?
1. Washington Redskins
Wow, I cannot begin to count the ways that's offensive. 
No team in professional sports has a larger black fan base than the Washington Redskins. Washington's mix of ethnic African immigrants along with African American supporters gives them a considerable edge over any other team. They tailgate, they come out to the games, they constitute one of the largest TV markets in American sports, and they have a robust social media following.
I realize there aren't many pictures of black sports fans actually rooting for their teams in this blog about black sports fans. That's because I couldn't find ANY on Google. Even when you type in black sports fans, this picture was the sixth one I saw.
A black and white picture…OF WHITE SPORTS FANS! Either Google Images needs to step their diversity game up, or black people just don't go to sporting events.
Sources:
http://www.cbssports.com/nfl/eye-on-football/24697058/facebook-releases-nfl-fan-map-of-us-jets-have-no-fans
https://en.wikipedia.org/wiki/List_of_U.S._metropolitan_areas_with_large_African-American_populations