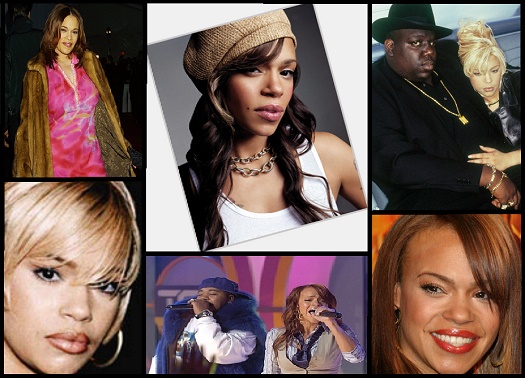 Many of us remember Faith Evans when she was first getting her start in the music business. After working as a backup vocalist for Al B. Sure and Christopher Williams, she signed on with Sean "Puff Daddy" Combs' Bad Boy Entertainment recording company. She went on to release three platinum albums between 1995 and 2001.
Here are some other facts we thought you might find interesting about Evans.
1. Evans was born in Lakeland, Florida, to an Italian-American father and an African-American mother. Her father was a musician who left when she was very young. She was raised in Newark, New Jersey, by her aunt, Johnnie Mae, and her mother, Helene.
2. She was an honor student in high school and won a full scholarship to Fordham University. However, she dropped out after one year of college to pursue a singing career.
3. Evans had her first child at age 19, Chyna, with musician and producer Kiyamma Griffin.
4. Evans is the widow of New York rapper Christopher "The Notorious B.I.G." Wallace, whom she married on August 4, 1994, a few weeks after meeting at a Bad Boy photo shoot.
5. In 1997, she did a tribute to Notorious B.I. G. featuring Puff Daddy and the band 112, "I'll Be Missing You." It won Evans a Grammy Award in 1998.
6. She had a son with the Notorious B.I.G., Christopher Jr., and a daughter named T'yanna. She also has two other sons named Ryder and Joshua and a daughter named Chyna.
7. Evans made her screen debut in the 2000 musical drama, "Turn It Up" by Robert Adetuyi.
8. Her autobiography Keep the Faith: A Memoir was released by Grand Central Publishing in 2008 and won a 2009 African American Literary Award for the Best Biography/Memoir category.
9. In 2003, she ended her relationship with Bad Boy Entertainment to sign with Capitol Records. In 2005, her first album released on the label, "The First Lady." It debuted at number two on the U.S. Billboard 200 and number one on the U.S. Top R&B/Hip-Hop albums charts.
10. Her holiday album, "A Faithful Christmas," was released the same year. It would became her last release before the company was bought in 2007.
11. In November 2014, Faith released her eighth studio album, "Incomparable," on Prolific Music Group with distribution through BMG Chrysalis. "Incomparable" reached number 17 on Billboard's Independent Albums chart and number 27 on Billboard's Top R&B/Hip-Hop Albums chart.
sources:
http://www.imdb.com/name/nm0262751/bio
https://www.rottentomatoes.com/celebrity/faith_evans/biography