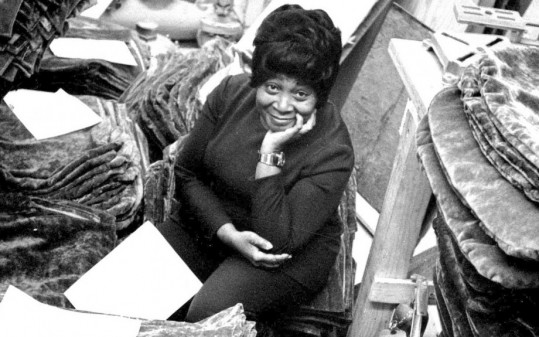 Looking back at groundbreaking moments in fashion, beauty, and beyond during Black History Month. We can't overlook the groundbreaking moment in the fashion industry created by African-American fashion designer Zelda Wynn Valdes.  Valdes who began her professional career working in her uncle's White Plains, New York tailoring shop became one of the top designers for big name celebrities in the entertainment business.
Read on to learn more about one of the first African American fashion designers:
1. Born Zelda Wynn Valdes on June 28, 1905 in Chambersburg, Pennsylvania. Got her start in fashion creating outfits for her dolls as a child in Chambersburg, Pa., and began cutting out patterns from newspaper.
2. Worked as a stock girl at a high end boutique before beginning her professional career in her uncles tailoring shop.
3. Opened her own boutique in Manhattan on Broadway and West 158th Street. Later moved "Chez Zelda" to 57 street in midtown.
4. First African-American to own a store on the coveted street.
5. Co-founded National Association of Fashion and Accessory Designer (NAFAD), a coalition of black designers that was founded by Mary McLeod Bethune. She was also the New York chapter's president.
6. Valdes curve-hugging creations were worn and loved by a host of Hollywood's biggest starlets.
7. Worked with big name celebrities including, Josephine Baker, Mae West, Dorothy Dandridge, Eartha Kitt, Ella Fitzgerald and numerous others.
Designer of the original Playboy Bunny costume.
8. Created wedding gowns, evening and cocktail dresses, and other luxurious ensembles for celebrities.
9. Dressed the entire bridal party at the 1948 wedding of Marie Ellington and Nat "King" Cole, an event that brought together the upper stratum of black society in New York, taking place at the Abyssinian Baptist Church in Harlem which was officiated by Adam Clayton Powell, Jr.
10. Dressed some of the influential women in the world, for their private lives and for major performances in their career.
11. Designed costumes for the Dance Theater of Harlem, by 1992, she had designed over eighty-two productions. Spent 18 years with the dance company and retired at the age of 83.
12. Closed her business in 1989, but she continued to work with the Dance Theater of Harlem until her death in 2001 at the age of 96.
sources:
http://anndandridgepublicrelations.ning.com/profiles/blogs/zelda-wynn-valdes