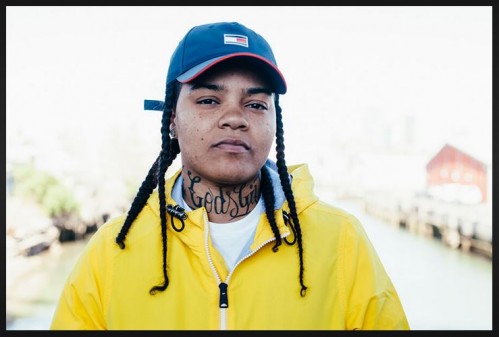 Katorah Marrero, better known by her stage name Young M.A, is an American rapper. She is best known for her 2016 hit single "Ooouuu".
Check out these other cool facts about Young M.A.
1. Young M.A was born on April 3, 1992, in Brooklyn, New York.
2. She began rapping at the age of 9 and further developed her talents over the next nine years, while she was residing in Virginia.
3. When she was a child, Young M.A already had a passion for music. She has never stayed in one place for long, moving to several cities in the South. 4. At the age of 16, she moved back to Brooklyn.
5. She self-funded a recording studio with local record producers while working at Shake Shack and T.J. Maxx.
6. Young M.A gained notoriety when a Facebook post criticized her song "Brooklyn Chiraq"; in 2014, the song then went viral. The post's author said the song promoted "violent, negative, genocidal energy", but the controversy expanded Young M.A's name recognition and brought new listeners to her work.
7. In 2015, Young M.A released a new song, called "Body Bag", which became a "YouTube hit", said Rolling Stone, along with the release of her mixtape called Sleep Walkin', which MTV described as a "thoughtful debut project".
8. She released her official debut single, "Ooouuu", in 2016 which peaked at number 19 on the US Billboard Hot 100 chart.
9. In September 2016, the song had nearly 7 million plays on Spotify and was widely remixed by other rappers and hip-hop artists such as French Montana, Remy Ma, Jadakiss, Uncle Murda, ASAP Ferg, Bryan Mathers, and Tink, all of whom were putting out their versions of the song.
10. At the 2016 BET Hip Hop Awards, she did a freestyle on a cypher and performed "Ooouuu", giving what XXL Magazine described as "show-stopping freestyle… one of the best freestyles of the night". Despite the enthusiasm for her performance, Young M.A expressed disappointment, saying BET cut out a portion of her performance.
11. In 2016, in an interview with Rolling Stone, Young M.A said she'd been offered the role of Freda Gatz (whose name was originally supposed to be Betty Bars, because the role was made especially for her).
source:
https://en.wikipedia.org/wiki/Young_M.A