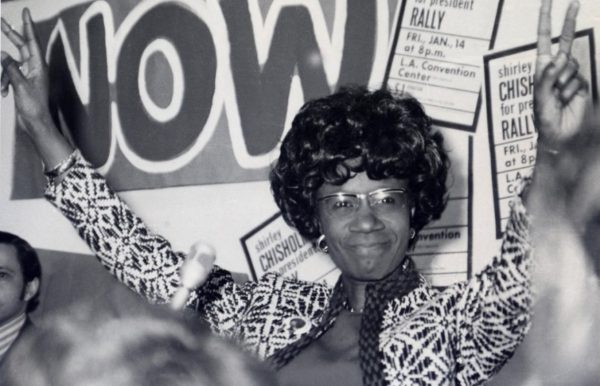 For those who do not know it, Secretary of State Hillary Clinton is not the first woman to make a bid for the United States presidency. In actuality, there have been 11 black women who stepped into the spotlight first.
1. Charlene Mitchell
Charlene Mitchell ran on the Communist Party ticket and received 1,075 votes from four states. As a third-party candidate in the 1968 election, Mitchell was the first African-American woman to run for President of the United States. Her running mate was Michael "Mike" Zagarell, the National Youth Director of the party; he was only 23 years of age, younger than the constitutionally required age of 35 to hold office. Both candidates were entered on the ballots in only two states.
2. Shirley Chisholm
Shirley Anita St. Hill Chisholm was an American politician, educator, and author. Chisholm was elected to Congress in 1968. On January 25, 1972, she became the first major-party black candidate for President of the United States and the first woman to run for the Democratic presidential nomination.
3. Leonora Fulani
Fulani was the first black independent candidate and the first female candidate who appeared on the ballot in all 50 states. She ran in 1988 and again in 1992 on the New Alliance Party ticket. She was the first woman to ever receive more than a quarter of the vote in the general election.
4. Cynthia McKinney
Cynthia McKinney ran on the Green Party ticket in the 2008 presidential election. She was running for presidency at the same time as President Barack Obama.
5. Margaret Wright
Margaret Wright ran in the United States presidential election in 1976. She represented the People's Party, and her running mate was Benjamin Spock, who had been a presidential candidate in 1972. Their ticket was endorsed by the Peace and Freedom Party.
 6. Angel Joy Chavis Rocker
Rocker was a 35-year old who ran for president in 2000. She was the first black female Republican to make a bid for presidency. Unfortunately, Rocker passed away in 2003.
7. Monica Gail Moorehead
Moorehead was a political activist since high school. She distributed newspapers for the Black Panther Party and subsequently joined the Workers World Party in 1972. She rose to national leadership in 1979. Her presidential campaign in 1996 received around 29,000 votes. In 2000, she received 4,795 votes; that year she was only on the ballot in Florida, Rhode Island, Washington, and Wisconsin.
8. Isabell Masters
Dr. Isabel Masters, teacher, evangelist, and "internationalist" made her fourth bid for the presidency in 2000. Masters, who ran in 1984, 1992, and 1996, made it onto the ballot in Arkansas and garnered 752 votes. In 2000, she was a write-in candidate in Kansas, alongside George W. Bush and Al Gore. Her vice-presidential running mate was her daughter, Alfreda Dean Masters.
9. Carol Moseley-Braun
Carol Moseley-Braun campaigned for her presidential nomination in 2004 as a Democrat. Moseley-Braun raised over $627,869, which at the time was the most money raised by any woman who appeared on the Democratic primary ballot.
10. Barbara Jordan
Barbara Jordan was the first black Senator elected to the Texas Senate after the reconstruction, and the first Southern black female elected to the U.S. House of Representatives. Although Jordan did not physically campaign, she received a delegate vote after being the first black speaker for the 1976 Democratic National Convention.
11. Peta Lindsay
Peta Lindsay campaigned under the Party for Socialism and Liberation. In November 2011, Lindsay was named the Party for Socialism and Liberation's candidate for President along with Yari Osorio for Vice President, despite being ineligible to become president under Article II, Section 1, Clause 5 of the U.S. Constitution. As she would need to be at least 35 in order to take office, Lindsay was disqualified due to age restrictions.
sources: