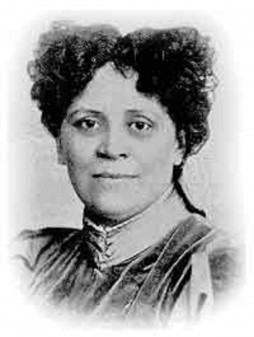 Hallie Quinn Brown was a popular lecturer, dramatic elocutionist, and educator. She started her career by teaching at a country school in South Carolina and at the same time, a class of older people. Though elected as instructor in elocution and literature at Wilberforce University, she declined the offer in order to accept a position at Tuskegee Institute.
Read on to learn more pioneering facts about Brown:
1. She grew up around Pittsburgh, Pennsylvania, and Chatham, Ontario.
2. Brown's parents were former slaves who married around 1840.
3. Her father, purchased his freedom and that other family members. He was the son of a Scottish plantation owner and her African American overseer; her mother was the granddaughter of a white planter who had fought in the Revolutionary War, and she was later freed by this grandfather.
4. Brown graduated from Wilberforce University in Ohio.
5. After school, she taught in schools in Mississippi and South Carolina.
6. In 1885, she became dean of Allen University in South Carolina and studied at the Chautauqua Lecture School.
7. She also taught in the public schools in Dayton, Ohio, for four years, and appointed lady principal (dean of women) of Tuskegee Institute, Alabama, working with Booker T. Washington.
8. From 1893 to 1903, Hallie Brown served as professor of elocution at Wilberforce University.
9. She helped promote the Colored Woman's League which became part of the National Association of Colored Women.
10. Represented the United States at the International Congress of Women, meeting in London in 1899.
11. Served as president of several organizations after she retired from teaching, including the Ohio Federation of Colored Women's Clubs and the National Association of Colored Women.
sources:
https://www.britannica.com/biography/Hallie-Quinn-Brown