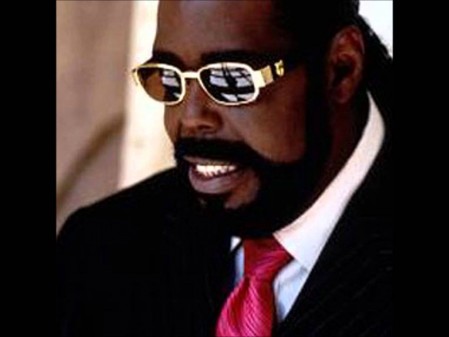 Listeners and fans of Barry White's voice and songs have never been able to get enough. The sounds were and still are when played today – the essence of pure seduction. During the 1970s, Barry White's career was on fire. He released hit after hit and became a household name. White rose to stardom and gained international success, with 106 gold and 41 platinum albums, 20 gold and ten platinum singles, and worldwide sales in excess of 100 million.
Read on to learn more legendary facts about White:
1. Born Barry Eugene Carter in September of 1944, in Galveston, Texas, but only because his mother, Sadie Marie Carter, had extended a family visit there. He was raised in California in the Watts area of South Los Angeles.
2. His father, machinist Melvin White, who already had a wife and children, never married Sadie Marie but was around occasionally.
3. Joined a quartet called the Atlantics, followed by a stint playing drums for Jackie Lee.
4. Never learned to read or write music, but he did become a multi-instrumentalist who could simultaneously create and arrange music in his head.
5. While spending time in jail during his youth, he heard the song 'It's Now or Never' by Elvis Presley and decided to change his way of life.
6. Started his music career out as a music rep, signing artists to various music labels in the 1960s. He signed a group named Love Unlimited, then produced and arranged their hit 'Walking in the Rain (With the One I Love).'
7. Signed a group named Love Unlimited, then produced and arranged their hit 'Walking in the Rain (With the One I Love).'
8. Embarked upon his own solo career in 1973 with the hit song 'I'm Gonna Love You Just a Little More Baby.' The song went to number one on the Billboard R&B charts in America.
9. During the 1970s, White had dozens of gold and platinum smashes including "Never Gonna Give You Up," "Ecstasy," and "I've Got So Much To Give."
10. Grammy Awards for Best Male R&B Vocal Performance and Best Traditional R&B Vocal Performance, for Staying Power, 1999.
11. Posthumously inducted into the Dance Music Hall of Fame in 2004. He received a posthumous star on the Hollywood Walk of Fame in 2013.
12. On July 4, 2003, White died in Los Angeles of kidney failure. He was only 58 years old.
sources:
http://www.encyclopedia.com/people/literature-and-arts/music-popular-and-jazz-biographies/barry-white