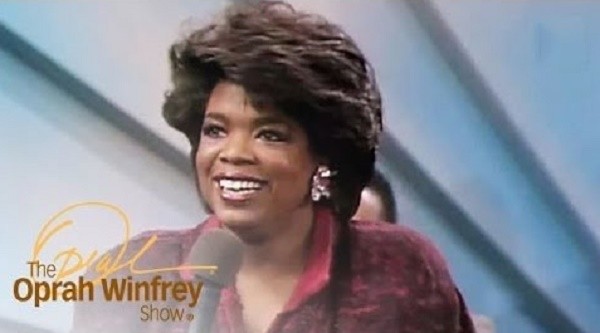 If you are a fan of Oprah, then you might remember what it was like to race home after a long day of work to relax watching the Oprah Winfrey Show. Oprah kept it real with her guests and audience and there was hardly ever a disappointing show.
Here are some interesting facts our research uncovered about the Oprah Winfrey Show:
1. Oprah Winfrey began hosting A.M. Chicago in 1984, which at the time was a struggling morning show on WLS-TV.
2. Within a month, of Winfrey hosting the show, the rankings rose and the show became the highest-rated local talk show.
3. In a years time, the half-hour show was extended to an hour—and renamed The Oprah Winfrey Show.
4. On September 8, 1986, The Oprah Winfrey Show went national. By the time the show went national most people recognized Winfrey for her work on The Color Purple, she was already an Oscar nominee for best-supporting actress.
5. It was Pulitzer Prize-winning film critic Roger Ebert who convinced Oprah to sign to the syndication deal for The Oprah Winfrey Show. The two were on their first date. Although there were no sparks flying between Ebert and Oprah, she sealed the deal with the Oprah Winfrey Show.

6. Her first guest pick was Miami Vice's Don Johnson but after he was unavailable, Winfrey decided to make the show about "everyday people, not celebrities" not all the time, anyway.
7. The first show was called 'How to Marry the Man of Your Choice.
8. Oprah loses 67 pounds. One of the Oprah Winfrey Show's most remembered shows is when Winfrey lost 67 pounds. So that the audience could see what 67 pounds of fat looked like Winfrey pulled it out on a wagon.
9. Sued in defamation suit in 1996 by Texas cattlemen. On a 1996 episode of mad cow disease, Winfrey admitted that a conversation with a vegetarian activist who told her about the dangers of a mad cow disease outbreak in America had stopped her "cold from eating another burger." A group of Texas cattlemen were not pleased with Winfrey's comment, and filed a defamation suit, claiming her remark led to $11 million in losses. Winfrey won the case.
10. Comedian Ellen DeGeneres comes out as lesbian on the show. Comedian (and future talk show host) Ellen DeGeneres chose The Oprah Winfrey Show as the place to come out publicly as a lesbian in 1997.
11. Interview with Michael Jackson in 1993 most watched. Oprah's interview with Michael Jackson in 1993 which was broadcast live from the musician's Neverland Ranch—became the most watched interview in television history.
12. The Big Car Giveaway/ You get a Car! You get a Car! You get a car! In 2004, Winfrey surprised her audience in a big way when she gave all 276 members of her studio audience a brand-new Pontiac G6. Everybody gets a car!"
13. Refrained from submitting show for further Emmy consideration. After winning 47 Daytime Emmy Awards—including a Lifetime Achievement Award—Winfrey refrained from submitting her show for any further Emmy consideration.
14. The Oprah Winfrey Show Ends. After 25 years on the air, the Oprah Winfrey show ends on May 25, 2011.
sources:
http://www.huffingtonpost.com/2011/05/25/oprah-winfrey-show-ends-a_n_866772.html
https://en.wikipedia.org/wiki/The_Oprah_Winfrey_Show
video: YouTube