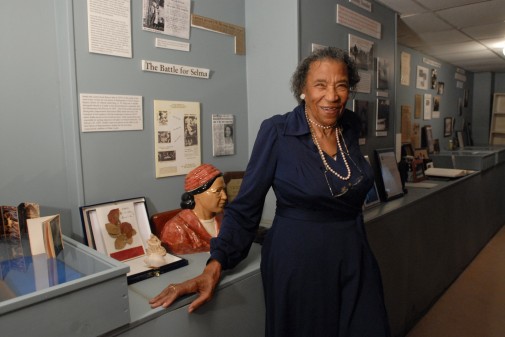 Amelia Isadora Platts Boynton Robinson was an American activist who was a leader of the American Civil Rights Movement in Selma, Alabama and a key figure in the 1965 Selma to Montgomery marches.
Read on to learn more about Amelia Boynton Robinson:
1. Born in Savannah, Georgia, on August 18, 1911 to George and Anna Eliza Hicks Platts, both of whom were African-American.
2. Boynton was also mixed with Cherokee and German ancestry.
3. In 1984, she became founding Vice-President of the Schiller Institute affiliated with Lyndon LaRouche.
4. She was awarded the Martin Luther King, Jr., Freedom Medal in 1990.
5. As a young girl, Robinson became involved in campaigning for women's suffrage. Her family encouraged the children to read.
6. Robinson attended two years at Georgia State Industrial College for Colored Youth, a historically black college).
7. Transferred to Tuskegee Institute (now Tuskegee University), earning a degree in home economics in 1927.
8. Also studied at Tennessee State, Virginia State, and Temple University.
9. Robinson taught in Georgia before starting with the U.S. Department of Agriculture (USDA) in Selma as the home demonstration agent for Dallas County.
10. Robinson educated the county's largely rural population about food production and processing, nutrition, healthcare, and other subjects related to agriculture and homemaker.
11. In 1934, Robinson registered to vote, which was extremely difficult for African Americans to accomplish in Alabama.
12. First female African American to run for office in Alabama and the first woman of any race to run for the ticket of the Democratic Party in the state. She received 10% of the vote.
13. In 1964 and 1965, Robinson worked with Martin Luther King, Diane Nash, James Bevel, and others of the Southern Christian Leadership Conference (SCLC) to plan demonstrations for civil and voting rights.
14. During Bloody Sunday, the march in Selma, Robinson was beaten unconscious; a photograph of her lying on Edmund Pettus Bridge went around the world. Boynton also suffered throat burns from the effects of tear gas.
15. Participated in both of the subsequent marches. Another short march led by Martin Luther King took place two days later; the marchers turned back after crossing the Pettus Bridge.
16. In 2015, Robinson attended the State of the Union Address in January at the invitation of President Barack Obama, and, in her wheelchair, was at Obama's side as he and others walked across the Edmund Pettus Bridge during the Selma Voting Rights Movement 50th Anniversary Jubilee that March.
sources:
https://www.biography.com/people/amelia-boynton-21385459