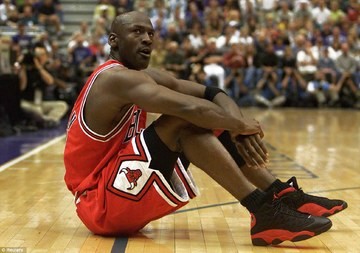 1. He is his father's son.
Michael Jordan and his father, James R. Jordan Sr., shared a love of basketball. In fact, Michael's father was his very first trainer! But what's even more interesting is that the males of the Jordan family have a history of sticking their tongues out as they concentrate. Even Michael's great-grandfather did it! Perhaps this is a rare genetic trait?
2. His driver is his best friend.
In 1984, back when Air Jordan was still a part of the Bulls, someone forgot to send this star athlete a ride when he first arrived in Chicago. A driver already there thought Michael to be his brother, Larry Jordan, who the driver had gone to school with. Because of this accident, the driver only charged Michael $25 for the ride. As the two started talking, they became fast friends. The driver's name is George Koehler, and he is still Michael's best friend and primary driver today. Funny how friendships can develop.
3. He has a bad form of stress relief.
In 1991, Michael developed the habit of smoking as a way to reduce stress on his way to a game. Michael even had personal movie theater built specifically to be able to handle his excessive amount of cigar smoke! Since the behavior did not affect MJ's performance, his coach had no qualms.
4. He is a creature of habit.
Smoking is not Michael's only habit. Every ten days, this former athlete goes to get a manicure. Makes you wonder what happens if he misses his ten-day mark. Another strange habit is Michael's pre-game meal routine. Four hours before each game, Michael would always order the same meal: a 23 ounce New York steak, a loaded baked potato (or mashed potatoes), and ginger ale.
5. He loves to gamble.
Although you may not find many pictures of MJ living it up in Vegas, he is a gambler nonetheless. There are countless reports saying he would make bets on his teammates. These bets would even be something as simple as rock-paper-scissors! In fact, a former Bull teammate of Michael's reported that Michael would bet $100,000 just on a one of these hand games! In fact, MJ even paid $57,000 to a cocaine dealer in order to settle a gambling debt.
6. He is in several Halls of Fame.
This should not come as too much of a surprise since he is a living legend. You can find this former athlete in the Naismith Memorial Basketball Hall of Fame (twice!) as well as the FIBA Hall of Fame.
7. He retired more than once.
The first time MJ retired was in 1998. He then went on to partially own and be the president of the Washington Wizards. After three years, Michael finally took to the court again. When the 9/11 attacks occurred, Michael donated the salary he made from his comeback to charities for victims of the attacks. In 2003, he retired for good after injury the cartilage in his right knee.
8. He started the baggy basketball shorts fad.
When people think of the attire of a basketball player, they usually picture a jersey and baggy shorts. The latter was a fad started by the legend, Michael Jordan, who wore baggy shorts for nearly every game. The reason for this was not a fashion statement or a way of improving his abilities on the court. He needed larger game shorts so that he would be able to wear his University of North Carolina Tar Heels shorts underneath for each game. Kind of like how we have all held up a book in class to conceal whatever we were really doing.
9. There is a disease named after him.
We have all heard of the dreadful disease called "Salmonella". However, few know of the specific strain called "Salmonella mjordan". Apparently, Dr. Stanford Shulman, who discovered this strain in 1993, was a huge MJ fan. It makes one wonder if having a deadly disease named after you should be considered flattering…
10. His father wanted him to be a mechanic in high school.
Michael's father recognized how his son was good with his hands. As such, he wanted Michael to become a mechanic because it was a good job. However, when Michael became a basketball big-shot in high school, a new path was carved for him.
11. He has a phobia of water.
This basketball pro actually has a traumatic history with bodies of water. He watched as a friend of his drowned in the ocean. When Michael was 11, he came close to drowning, as well. These unfortunate incidents have left Michael with a phobia of large bodies of water, which he still holds to this day.
12. He is the first athlete in history to become a billionaire.
Today, the former athlete has a net worth of $1.14 billion. He makes roughly $60 million a year from Nike and Jordan brands. Basically, he's loaded.
13. He had the chance to attend Duke.
Duke University tried had to recruit MJ out of high school. However, Michael turned the university down in favor of the Tar Heels.
14. He had the second-most expensive divorce in sports history.
After 17 years of marriage and three children, it was over between Michael and Juanita Vanoy in 2006. This $168 million divorce is the second-most expensive divorce of an athlete in history. It is only out-shined by Roman Abramovich's $300M settlement. In 2013, Michael was remarried to Yvette Prieto.
15. He has a major in cultural geography.
Cultural geography is a pretty long way from the court. However, Michael received this degree at North Carolina University in 1986. Cultural geography is an introduction to meteorology. In case basketball didn't work in his favor, MJ wanted to have a backup career as a meteorologist. Not that he needed a backup plan, but it is still good he had one.
16. His father was murdered by two teenagers.
While James Jordan was sleeping in his car, he was shot and killed by two teenage thieves. Following his father's death, Michael tried his hand at baseball. Baseball was his father's father's favorite sport, and he had encouraged Michael to play it. Michael played baseball from 1994 to 1998 in honor of his father's wish.
17. He didn't just have a career in sports and shoes.
This former pro athlete is also known in the world of TV and film. He is best known for his starring role in Space Jam from 1996. What is lesser known is MJ's time as a cartoon character. The cartoon, which did not run for very long, was called "ProStars". A cartoon version of Michael was a main character, but the man himself did not voice his own or any other characters. Michael even had a short-lived TV show called "Michael Jordan Airwaves". It is also not hard to find references and mentions of this sports legend in several other movies.
18. Nike is not his preferred shoe brand.
Believe it or not, MJ is an Adidas fan. When he first started his shoe deal, he wanted to give it to Adidas, but they could not even come close to matching Nike's offer. His first choice was not favored by Michael. That is, until he realized that the Air Jordan distracted other players. A home court advantage, indeed.
19. He ended the career of another basketball player with just five words.
It was the 1995 Playoffs, Bulls vs Hornets. Muggsy Bogues, a Bull alongside Michael was in possession of the ball. According to Muggsy, Michael yelled at him to "shoot it, you f*cking midget." Muggsy took the shot and missed. He reported a year later that he believes this single missed shot cost him his career.
20. He has a tattoo.
It just isn't anywhere visible. On his chest, over his heart, is a tattoo of Omega, the Greek letter. It is to honor his Omega Psi Phi Fraternity. This was also the first predominantly black Frat of this type to be established at a historically black college.
21. His childhood idol was Magic Johnson.
You may have wondered where the nickname "Magic Jordan" came from. Well, now you know. It can from Michael's childhood idol—the other MJ.
22. He has five children.
Michael, like his father, has had five children (so far).
Jeffery Michael Jordan was born in 1988 to Michael's first wife. Jeffery has gone in and out of a basketball career before finally deciding it just isn't for him. He has a major in Psychology and is currently studying retail to begin his own brand.
Marcus Jordan was born in 1990 and also had a brief career in basketball. Like his brother, he is studying retail while owning a shoe store called "Trophy Room."
Another two years later, and Jasmine Mickael Jordan was born. Unlike her brothers, Jasmine has not really been up to much in her life. In 2013, she came out as gay via Instagram. However, in April of 2016, she posted pictures of herself with her new boyfriend.
One year after remarrying in 2013 to Yvette Prieto, Michael found himself with twins. Victoria and Ysabel Jordan are the latest additions to the Jordan family. Perhaps they will grow up to be athletes, like the male Jordans, or social media stars, like their sister.
23. He is, of course, iconic for the number 23.
This number's popularity in association with the basketball legend often leads to other athletes choosing the number in honor of him. However, several universities that MJ played for have retired the number 23 indefinitely. This is simply because no athlete can ever replace the former athlete. From high school to college, Michael Jordan was always 23. There was only one instance in which the basketball pro wore a different number. His jersey had been stolen before a game, so he was forced to wear number 12. Even so, he still scored high with 49 points. Just further proof that the man is all talent, rather than sheer luck— despite his unusual habits.
By Deja Y.
Photo Credit: Reuters