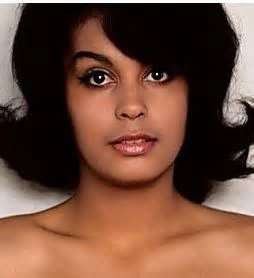 Some of the most beautiful black women went against the stereotype, became a Playboy Playmate and took over the mag's centerfolds.
Leola Bell, February 2012
Before being a Playboy Playmate, Leola had several minor stints with the mag.
Kylie Johnson, February 2011
Kylie is one of the very few Playboy Playmates who has an eye-catching tattoo.
Ida Ljungqvist, March 2008
Ida is of Swedish and Tanzanian origin. She was the second black Playmate of the Year (2009)
Patrice Hollis, September 2007
Patrice is a poet, a sports fan and an actress.
Kia Drayton, December 2006
Kylie is now a mom. She studied Sports Law at UCLA.
Before having her own centerfold ,Qiana was part of the 50th anniversary Playmate search.
Serria Tawan, November 2002
Serria authored the book: "The Bunny Book: How to Walk, Talk, Tease and Please Like a Playboy Bunny" together with two other Playboy Playmates.
Nicole Narain,January 2002
Nicole will always be remembered for her sex tape with Colin Farrell.
Neferteri Shepherd, July 2000
There is no reference on her website to her being a Playboy Playmate.
Holly Joan Hart, April 1998
Rebellion was what pushed her to be a Playboy Playmate.
Daphnee Lynn Duplaix, July 1997
Daphnee is one of the most successful actress in soap operas of the Playboy Playmates.
Aside from being a Playboy Playmate, Karin was the last "Snap-on Girl (Snap-on Tools calendar)."
Elan Carter Issue, June 1994
Elan is the daughter of the only surviving Temptations founder member, Otis Williams.
Stephanie Adams, November 1992
Playboy Playmates live colorful lives but Stephanie has lived a far more colorful life.
Lorraine Olivia, November 1990
Lorraine was a flight attendant and she did pose as one in her Playboy stint.
Renee Tenison, November 1989
Renee was the first Playboy of the Year that was black.
Venice Kong , September 1985
Venice was the last Playboy Playmate to be featured in Playboy's stapled-style mag.
Anne-Marie Fox, February 1982
Anna-Marie is a professional photographer.
Ola was also the female lead in Michael Jackson's "Thriller" music video.
Rosanne Katon, September 1978
Rosanne had a relatively good acting career before and after she became a Playboy Playmate.
Azizi was then the most exotic girl to be Playboy Playmate.
Ester Cordet, October 1974
Her centerfold was one of the greatest shots of Playboy in the 70s.
Julie Woodson, April 1973
Julie was one of only two Playboy Playmates to be Cosmopolitan's cover girls.
Jean was the second Playboy Playmate and its first cover girl who was black.
Jennifer Jackson, March 1965
11 years after Playboy's first issue, Jennifer broke color barriers to be the first black Playboy Playmate.