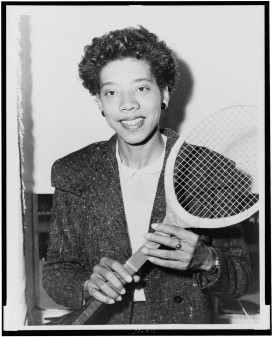 BY: KATHRINA JANE TIANGCO
In today's modern society, it's quite hard to imagine watching professional sports without black athletes. Imagine the NBA without Michael Jordan or LeBron James. However, in the older days, black athletes were not given the opportunity to equally compete in professional sports and were segregated from the white athletes.
1. Boxing
During the period of racial segregation, African-American boxers were not allowed to participate in the boxing heavyweight championship. Finally, in 1908, Jack Johnson, a black boxer, was finally given a chance to fight for the most prestigious belt in boxing. He successfully defeated Canadian boxer, Tommy Burns and broke the wall between white and black athletes.
This event became a significant symbol in African-American history because it proved to the entire world that black athletes were not inferior to white athletes. Johnson reigned king of the ring for 7 years but his achievement became a significant event in black history.
2. Baseball
With the separation of racial sports, African-Americans created their own organization including the Negro Leagues. The Negro Leagues was not recognized by the Major League Baseball and was dominated by black athletes, however, other non-white athletes also participated including the Latin-Americans.
Hence, black athletes formed their own sports teams and showed the entire world that they can play as well as the white baseball players and perhaps, even better. The baseball fans were impressed by the performance of black athletes. This paved way for the first black athlete to join the Major League.
In 1947, Jackie Robinson became the first black professional baseball player and was drafted by the Brooklyn Dodgers. He also became the first black MVP awardee two years later and also set the record for the first African-American Hall of Famer in 1962.
3. Tennis
In the world of tennis, Althea Gibson became the first black tennis player to compete in the U.S. Nationals in 1950. She won the championship in the all-black American Tennis Association for many years.
In 1956, Gibson finally became the first black tennis player to secure a major title in the French championship by beating Angela Mortimer. She also worked her way to become the first black tennis player to win Wimbledon as well as the U.S. Nationals. After several years, Gibson retired and moved onto a different sport where she made history again as the first black woman to play in the Ladies Professional Golf Association.
Black Athletes and Sports
These 3 people are just a few of the most notable professional black athletes that have made an impact in the sports industry. Check out the original story via Biography.
Photo Credit: Flickr