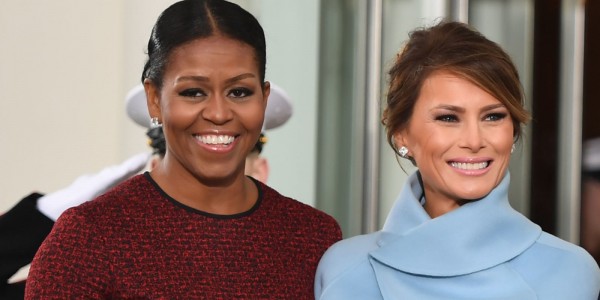 BY: LANWO RAPHAEL
The elections have come and gone with all the histrionics, emotions, drama and all that accompanied it. Many people (hello lefties) were hoping the white house would for the first time in history have a "first man" rather than a first lady. But, Hello world, Melania Trump is in the building, replacing Michelle Obama after her eight-year stint as queen pin. We're definitely going to miss Michelle and her two adorable daughters. Here's a quick comparison between predecessor and successor. Who is (or was) cooler, who is (or will be more loved), as expected, we're rooting for pretty Michelle and this article shows why:
The Grand Plagiarism
We know you were looking out for it, but well we've got no choice. The popular Republican convention speech in which Melania Trump practically copied Michelle's Democratic convention speech a couple of years before was a very big media feast and of course, it showed how a black women rock!
The Queen is a Witness
Back in April 2009, Barrack Obama and Michelle paid a visit to the Queen of England and the Duke of Edinburgh at the Buckingham Palace. In the course of the visit, after pleasantries had been exchanged. Michelle had a chat with the queen and she seemed to be so impressed that she broke traditional protocol to place her hand on the small of Michelle's back while the tall first lady returned the favour with a very slight side hug which the monarch did not seem to totally mind. This was in dissonance with culture as there have been incidents in which physical contact between the queen and international leaders generated a lot of uproars (remember when Australian Prime Minister Paul Keating placed his arm around the queen's waist and faced considerable backlash for the action, he was nicknamed "the Lizard of Oz"), yeah so, if the queen thinks Michelle is cool, we think so too.
Their Daughters
Sasha and Malia Obama were a sight to behold. Always prim and proper and looking all cute and pretty besides their mother at state functions. Always trust a black Momma to raise those kids right with some quality ass-whooping yeah?" Ivanka Trump… *coughs* well, it's not even a whole year into the Trump administration yet, so, it may be too early to make judgment calls. But hey snap question, would you rather have Sasha and Malia Obama as daughters or Ivanka Trump? Enough said, next section.
Education
Boy, Michelle's sound; Bachelor of Arts from Princeton and Doctor of Jurisprudence from Harvard, how better can that get? Over to good ol' Miss Melania and what have we? A degree from the University of Ljubljana (I gave up trying to pronounce that), yeah so another question to the bros in the house, which would you pick, a smart woman with two degrees or an ex-play boy model with a degree from the University of Ljubjabdada…… again, enough said
The American public will definitely Michelle Obama as the first lady.