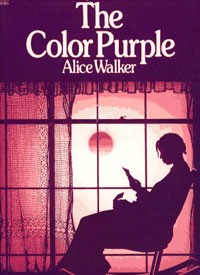 1. Alice Walker/The Color Purple
Alice Walker published The Color Purple in 1983. Although the book was the recipent of the Pulitzer Prize and National Book Award it also received a significant amount of backlash. The issues that troubled some were race relations, man's relationship with god, and black's and human sexuality. In 1986, The Color Purple was taken off of open shelves in the Newport News, Va. school library for its "profanity and sexual references." The book was only availabe to those 18 and older.
2. Maya Angelou/ I Know Why The Caged Bird Sings
Angelou's collection of poetry And Still I Rise has also been challenged and in a few cases. The literary work was prohibited by school districts after parent groups complained of "suggestive sexuality" present in the text.
3.  Ralph Ellison/ Invisible Man
Ellison's novel Invisible Man follows the life of an black man who migrates to New York after living in the south. The book received great acclaim including a National Book Award. However, that did not stop the school board of Randolph County in North Carolina from banning the book. The school board argued that the book held no "literary value."
4. Toni Morrison/ Song of Solomon
Morrison's novel Song of Solomon received an enormous amount of criticism. Although the book won the National Books Critics Award, and was chosen for Oprah Winfrey's popular book club, there were those who found fault with the text. In 1993, the novel's use was challenged by someone in the Columbus, Ohio school system who believed it was degrading to African-Americans. The novel was removed from the library and required reading lists in Richmond County, Ga. after a parent characterized the text as "filthy and inappropriate."
5. Muriel Feelings/jambo means hello "Swalhili Alphabet Book"
The book uses Swahili life to teach counting in both the English language as well as Swahili language. While showing the numbers, it tells a little about life in Swahili. However, the book was banned in New York in 1994 because it was alledgedly offensive to white children; it was later reinstated.

sources:
http://www.bet.com/news/national/photos/2013/09/banned-book-week-african-american-classics-barred-from-classrooms.html#!092413-national-banned-books-the-bluest-eye-toni-morrison