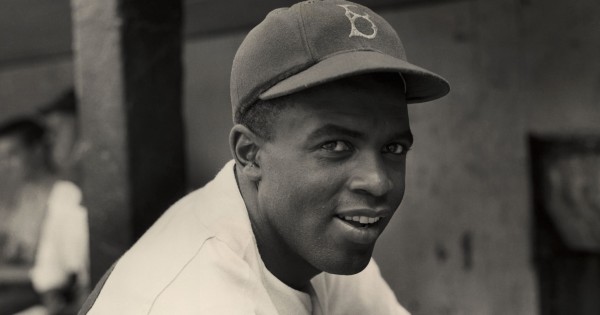 1. Jackie Robinson
In 1947, Jackie Robinson became the first African-American to integrate major league baseball. Robinson did not begin his career as a baseball player in the Major Leagues. Instead, he began his career two years earlier by playing with the Kansas City Monarchs. In his first year as a player, Robinson was part of the 1945 Negro League All-Star Game. He had a great 10-year baseball career. He was the recipient of the inaugural MLB Rookie of the Year Award in 1947, was an All-Star for six consecutive seasons from 1949 through 1954, and won the National League Most Valuable Player Award in 1949, he was the first black player honored. He also played in six World Series and contributed to the Dodgers' 1955 World Series championship.
2. Satchel Paige
Satchel Paige begins his career as a baseball player in 1924 when he joins the Mobile Tigers. Two years later, Paige made his debut in the Negro Baseball Leagues by playing with the Chattanooga Black Lookouts. He became the oldest rookie ever in the major-leagues when he joined the Cleveland Indians in 1948 at age 42. Paige played with the St. Louis Browns until age 47, and represented them in the All-Star Game in 1952 and 1953. He was the first player who had played in the Negro leagues to pitch in the World Series, in 1948, and was the first electee of the Committee on Negro Baseball Leagues to be inducted in the National Baseball Hall of Fame, in 1971.
3. Josh Gibson
Joshua Gibson made his debut in the Negro Baseball Leagues by playing for the Homestead Grays. Soon after, he played for the Pittsburgh Crawfords. Gibson was often referred to as the "Black Babe Ruth." Baseball historians consider Gibson to be among the very best power hitters and catchers in the history of any league, including Major League Baseball.
4. Oscar McKinley Charleston
Oscar McKinley Charleston was an American center fielder and manager in baseball's Negro leagues from 1915 to 1945. During World War II, Charleston worked at the Philadelphia quartermaster depot. In 1945, he managed the Brooklyn Brown Dodgers, Branch Rickey's cover team set up to scout Jackie Robinson and other African-American players.
5. James "Cool Papa" Bell
James Thomas "Cool Papa" Bell was an American center fielder in Negro league baseball from 1922 to 1946. He is considered by many baseball observers to have been one of the fastest men ever to play the game. The fastest man ever to play baseball, "Cool Papa" Bell rode the crest of the publicity from his incredible speed and colorful nickname into the Hall of Fame.
sources:
http://coe.k-state.edu/annex/nlbemuseum/history/players/bell.html