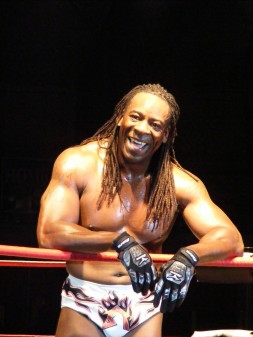 Just like any sport or form of entertainment, there are only a select few that will be remembered for their craft. There are quite a few professional wrestlers who have made a great impact on history and will forever be remembered.
Here are 5 professional wrestlers who we just think are the greatest of all time:
1. Booker T.
Booker Tio Huffman Jr, is an American semi-retired professional wrestler and color commentator who is currently signed with WWE. He is also founder/owner of the independent promotion Reality of Wrestling in his hometown of Houston, Texas.
2. Dwayne Johnson
Dwayne Douglas Johnson, also known by his ring name The Rock, is an American-Canadian actor, producer and professional wrestler. Johnson gained mainstream fame in the World Wrestling Federation (WWF, now WWE) from 1996 to 2004 as a major figure in the company's Attitude Era, and was the first third-generation wrestler in the company's history. He returned to wrestling part-time for WWE from 2011 to 2013 and continues to make sporadic non-wrestling appearances for the company.
3. Junkyard Dog
Sylvester Ritter, professionally known as "Junkyard Dog" was a professional wrestler and professional football player. He was best known for his work in Mid-South Wrestling and the World Wrestling Federation. Ritter picked up his nickname while working in a wrecking yard. Junkyard Dog regularly headlined cards that drew large crowds and regularly sold out the Louisiana Superdome and other major venues, becoming "the first black wrestler to be made the undisputed top star of his promotion."
4. Mark Henry
Mark Jerrold Henry is a powerlifter, Olympic weightlifter, strongman and professional wrestler. He is currently signed to WWE. He was a two-time Olympian in 1992 and 1996 and a Silver, Gold and Bronze Medalist at the Pan American Games in 1995. Since joining the World Wrestling Federation (now WWE) in 1996, he has become a one-time WWF European Champion and a two-time world champion, having held the ECW Championship in 2008, and WWE's World Heavyweight Championship in 2011.

5. Kamala
James "Jim" Harris is a retired American professional wrestler and author. For most of his career, Harris wrestled under the ring name Kamala, using a "wild savage" gimmick. amala wrestled for Mid-South Wrestling, Memphis, and World Class Championship Wrestling in the early 1980s. In Mid-South Wrestling, Kamala was nicknamed "The Ugandan Giant", managed by General Skandor Akbar and billed as a former bodyguard of President of Uganda Idi Amin.
sources:
http://www.ranker.com/list/best-black-wrestlers-of-all-time/ranker-wrestling