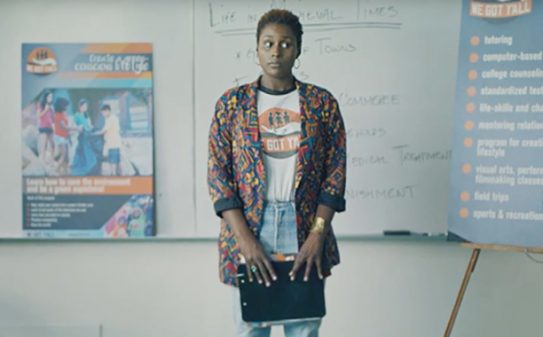 By Natasha Lane
America's come a long way since Song of the South and Driving Ms. Daisy. Black people in America have carved out our niches in a society that has refused to accept us. Our resiliency is so strong thar we're often referred to as the most emulated culture in the world. From fashion to music to cinema, we have held our own and had our voices heard, even when others tried to silence them.
Here are five progressive black shows you need to watch.
Blackish (2014)
Blackish centers around a modern-day black family living in a relatively diverse neighborhood. The parents, played by Anthony Anderson and Tracee Ellis Ross, offer a more "old school" perspective on being black, which often comes in contrast with the reality their children experience. Although the family breaks away from various black stereotypes, the family has a general "black experience," making them not white, not black, but "black-ish."
Insecure (2016)
Broadening what it means to be a black woman and the black experience, Issa Rae's Insecure has all the makings for a hit show. While black women are often stereotyped as being head-strong, independent, unapologetically confident, and aggressive, Issa is the epitome of awkward. Completely aware of her lack of black woman-ness, Issa struggles to find her identity in herself, as well as her blackness.
Atlanta (2016)
In his new Fox show, Donald Glover is tackling everything from the too-often cookie cutter rap industry, homophobia (and any other phobia/-ism) in the industry, mental illness, police brutality, and, of course, the black experience in all its varieties. The main character Earn, played by Donald Glover, is a Princeton dropout turned music manager with an airport sales job he hates, tons of baby mama drama, and a not a dime in sight. Despite his flaws, Earn is ambitious and a relatable underdog for any black nerd.
Queen Sugar (2016)
After losing their father, three distant siblings are forced to reunite. During this reunion, the siblings find their lives unraveling. Charlie (played by Dawn Lyen-Gardner), Nova (played by Rutina Wesley) and Ralph Angel (played by Kofi Siriboe) find themselves in situations in which they have to support one another, though they fail to realize it at the time. A show with an old-school soul feel, a slight New Orleans voodoo vibe, and the struggles of the modern day, Queen Sugar should be on your watch list.
Lucas Cage (2016)
He's a dark-skinned black man who's bulletproof and wears a hoodie like a cape. He is Lucas Cage and his badass-ery knows no bounds. Based on a Marvel comic book series, Lucas Cage (born Carl Lucas) was raised in Harlem, New York, where he became involved in gang activity, eventually leading him to prison. In prison, Cage is selected for an experimental cell regeneration program, leading him to become a "Hero for Hire" post-prison, from which the story unfolds. Not only is Cage one of a few black superheroes, the show brings up modern-day issues in the black community with Cage as the enlightened (woke) leader.
Links:
http://marvel.com/universe/Cage,_Luke
http://renewcanceltv.com/category/blackish/