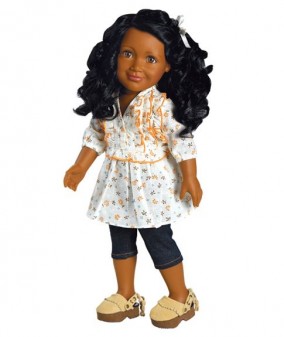 There are now more colored children than white children in the US. It is estimated that the purchasing power of African Americans is over $1 trillion. With these figures, the Toy industry is reacting accordingly and have started producing Black doll lines which are reaping success.
Here are 7 of these doll lines that have raised acceptance and self-confidence in African American children because this time they are playing with dolls that look like them.
This doll line debuted with only two dolls in Walmart stores. After selling 100,000 units, in two years, the line includes 30 dolls and are sold in over 300 stores.
Prettie Girls! by the One World Doll Project
Prettie means Positive, Respectful, Enthusiastic, Talented, Truthful, Inspiring, Excellent. The doll line features African American dolls among other colored dolls. The dolls are available in major retail outlets and in Amazon.
This doll, Mia, is inspired by the book series of designer and actress Betty Bynum's, "I'm a Pretty Little Black Girl." The Mia Doll is released by Bynum is partnership with doll giant Madam Alexander.
This doll line includes Black dolls with varied hairstyles including sisterlocks, micro braids and big afros and other hairstyles in between.
These African American rag dolls are crocheted and hand-crafted. The dolls' hair are made of synthetic fiber and be styled into curls and kinky dos. Hair can also be braided.  
This vinyl doll is 18" tall and comes with an expensive looking head with natural hair. The doll's hair can be washed, braided, knotted and twisted. Angelica Sweeting created this doll through the Kickstarter campaign. It is her hope that through this doll, little black girls will change their standards of beauty.
African American Barbie Dolls
There is often some confusion on when Barbie first launched its African American dolls. African American Barbie dolls were first sold in 1980 however they were just black painted versions of the traditional blonde Barbies.
In 2009, Stacey McBride-Irby, Mattel designer, launched the "So In Style" Barbie line. This time the dolls had African American features such as bigger noses, wider lips and cheekbones that were more pronounced.
The most notable African American Barbie Dolls include:
Barbie for President African American Doll. 1992

African American Astronaut Barbie, 1985 and in 1994

Super Hair African American Barbie Doll, 1986

Barbie So in Style Range with Real Features, 2009