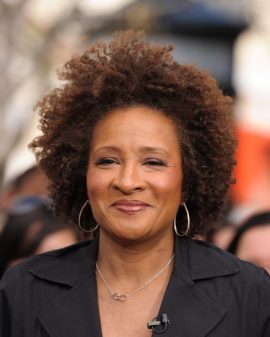 Wanda Sykes is often referred to as one of the funniest stand-up comics to date. However, there is more to Sykes than her smart-witted stand-up acts. She is also a writer, actress and voice artist. She was first recognized for her work as a writer on The Chris Rock Show, for which she won a Primetime Emmy Award in 1999.
Here are a few other facts to know about Wanda Sykes:
1. Sykes was raised in the Maryland-Washington, D.C., area. She is the daughter of Marion Louise (Peoples), a banker, and Harry Ellsworth Sykes, a U.S. Army colonel.
2. She received a Bachelor of Science degree in marketing from Hampton University. She is also a member of the Alpha Kappa Alpha Sorority Incorporated.
3. She worked as a procurement officer at the National Security Agency (NSA) at Fort Meade in Laurel, Maryland, from 1986 to 1992.
4. Her stand-up career began at a Super Talent Showcase in Washington, D.C., where she performed for the first time in front of a live audience.
5. Sykes came out as gay on November 15, 2008, at a pro-gay marriage rally in Las Vegas hosted by the LGBT Center of Southern Nevada. At that rally, she also publicly announced for the first time that she has a wife, to whom she was married in California on October 25, 2008.
6. Her partner, Alex, gave birth to twins, a boy Lucas Claude and a girl Olivia Lou, on April 27, 2009. The couple frequently visits Alex's hometown in France.
7. Sykes underwent a bilateral mastectomy after doctors found evidence of the early stages of breast cancer.
sources:
http://www.wandasykes.com/
http://www.imdb.com/name/nm0843100/