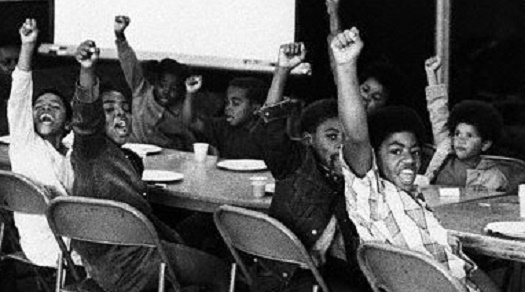 The Black Panther Party's Free Breakfast for Children program was established when the Civil Rights Movement had reached a turning point. When the program originated, both Dr. Martin Luther King, Jr. and President Robert F. Kennedy had been assassinated. By the time the program was dismantled, over 20,000 children had been given the opportunity to enjoy a full breakfast before the beginning of every school day.
Here are some extraordinary facts to know about the Panthers' breakfast offering:
1. The Black Panthers believed in the importance of education. The program was created to allow children the opportunity to show up to school with a full stomach, ready to learn.
2. The first breakfast program opened in January 1969 at Father Earl A. Neil's St. Augustine Episcopal Church in Oakland, California. On the first day of the Free Breakfast for Children program, BPP members fed 11 children. By the end of that week, the number rose to 135 children.
3. By the end of 1969, the Black Panthers were serving a free full breakfast — including milk, eggs, bacon, grits, and toast — to 20,000 school aged children.
4. The program served 19 cities and 23 local affiliates every school day throughout the United States,
5. Most of the funding for the program came from donations from within the communities being served.
6. The program gave the Black Panthers a chance to address issues that were getting little attention by the media: hunger and poverty.
7. After the program was dismantled, it inspired the U.S. Department of Agriculture to start the School Breakfast Program that millions of students use today.
sources:
http://nhdblackpantherparty.weebly.com/programs.html
BHM Lesson: Black Panther Party's Free Breakfast for Children Program