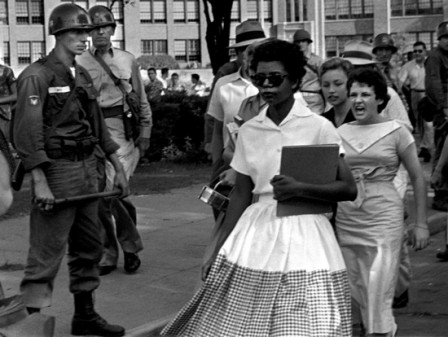 Elizabeth Ann Eckford made history as a member of Little Rock Nine, the nine African-American students who desegregated Little Rock Central High School in 1957.
Here are some other "moving" facts to know about activist Elizabeth Ann Eckford:
1. Born on October 4, 1941, to Oscar and Birdie Eckford, and is one of six children.
2. Father worked nights as a dining car maintenance worker for the Missouri Pacific Railroad's Little Rock station. Her mother taught at the segregated state school for blind and deaf children, instructing them in how to wash and iron for themselves.
3. Attempted to enter Little Rock Central High School, a school that previously had only accepted white children.
4. Attended Knox College and later Central State University in Wilberforce, Ohio.
5. Served in the U.S. Army for five years, as a pay clerk and information specialist.
6. Held various jobs throughout her life including working as a history teacher and several state employment positions. She also worked as an probation officer in Little Rock.
7. Awarded the prestigious Spingarn Medal by the National Association for the Advancement of Colored People (NAACP), as were the rest of the Little Rock Nine and Daisy Bates, in 1958.
8. Tragically, her son Erin, who suffered from mental illness, was shot and killed by police in 2003.
sources:
http://www.arkansas.com/attractions/central-high/
http://www.blackhistory.com/content/62650/the-little-rock-nine