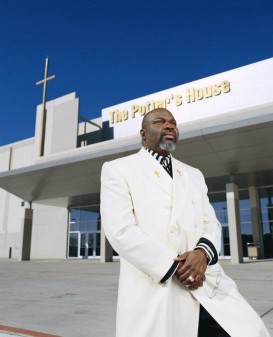 Thomas Dexter "TD" Jakes Sr. is a famous pastor, author, and film producer. He is the bishop of one of America's megachurches, The Potter's House. His evangelical sermons are also broadcasted on The Potter's Touch.
Bishop TD Jakes has transformed his beliefs and teachings into an empire. Most people may know him from his broadcasts and TV guesting, but there are some facts that people rarely know about him. Here are 7 things you should know about America's favorite pastor.
When he was young, Jakes spent his teenage years taking care of his invalid father. He started preaching while he was still in university and decided to drop out to work while continuing to preach part-time.

Jakes took on the role as the pastor of a small independent Pentecostal church, the Great Emmanuel Temple of Faith in Montgomery, West Virginia. He only had 10 members in the entire congregation. However, his ministry grew fast over the years and solidified his status as a pastor and speaker.
As the congregation grew, the church also had to move to accommodate the increasing members. The church relocated to Smithers and then to South Charleston.
Later on, his family and ministry moved to Dallas where the Potter's House was established. This became a non-denominational megachurch where the members grew to a total of 14,000.

Ebony Magazine

included Jakes in their list of Power 100 and he was also featured on

Time Magazine's

cover. Jakes also received several recognitions and awards such as the Stellar Award, Grammy Awards, BET Honors, and NAACP Image Award, among many others.

Jakes is certainly no stranger to Hollywood and continues to produce films. He has collaborated, starred, and produced eight films to date.

He established T.D. Jakes Ministries, a non-profit organization that produced TV sermons. Jakes became the host of "Get Ready," a weekly syndicated radio and TV show.
After a few years, a partnership was presented on the table to launch a secular talk show. Unfortunately, the show never made it on air due to economic issues.
Later on, another TV show project was offered to Jakes. He became the host of the secular talk show, T.D. Jakes. However, the show was short-lived and was canceled because of poor ratings.
His biggest fan is Oprah Winfrey. She even recorded one of her Life Class episodes at his event at The Potter's House.
Ready the original story via News Max.