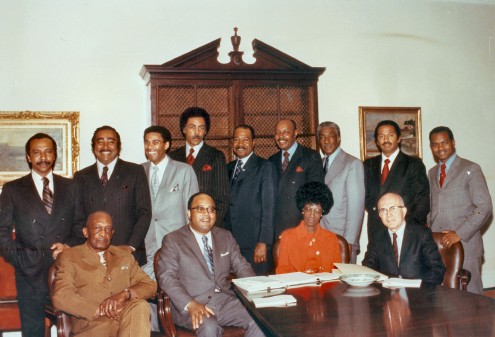 1. The Congressional Black Caucus is established in Washington D.C.
The Congressional Black Caucus is a political organization made up of the African-American members of the United States Congress. While race and party affiliation are not officially requirements for membership, all of its members have been African American and most of them Democrats. At its formal founding in 1971, the caucus had thirteen members. As of 2017, it had 45 members, including two who are non-voting members of the House, representing the District of Columbia and the U.S. Virgin Islands.
 2. Dr. Clifton Wharton Jr. is appointed as president of Michigan State University. Dr. Wharton is the first African-American to head a predominately white university in the 20th Century.
Wharton was elected president of Michigan State University on October 17, 1969. He became the first African American president of a major U.S. university. As the newly appointed president of Michigan State University, Dr. Wharton was the first black president of a major predominantly white college in the country." Wharton's term of office, from 1970 to 1978. His term served was often a turbulent one, filled with student demonstrations in 1970 and 1972.
3. The People United to Save Humanity is founded by the Reverend Jesse Jackson.
Operation PUSH was founded by Rev. Jesse Jackson in 1971 to improve the economic status of African Americans in Chicago, Illinois.  Prior to founding PUSH, Jackson was head of the Southern Leadership Conference's Operation Breadbasket in Chicago.  Through Breadbasket, Jackson succeeded in persuading many corporations to hire black workers, do business with black-owned service companies, and use black-owned banks.
4. Johnson Products becomes the first African-American owned company to be listed on a major U.S. stock exchange.
George H. Johnson and his wife, Joan, founded Johnson Products in 1954 with a $250 loan. He had previously worked for 10 years for Fuller Products. Johnson's first success was with his Ultra-Wave and Ultra Sheen hair relaxers. In the 1960s, Johnson capitalized on the popular Afro hairstyle which required careful grooming to retain its natural luster and sheen with his Afro-Sheen product line. By 1964, it had national distribution, with sales to mass retailers and chain stores. Throughout the 1960s, Johnson Products had 80 percent of the market in Black hair care products. In 1970 Johnson Products became the first Black-owned firm to be listed on the American Stock Exchange.
5. Basketball player Wilt Chamberlain becomes the first National Basketball Association (NBA) player to score more than 30,000 points during his career.
Wilt Chamberlain was a trailblazer in basketball, and when he joined Jerry West and Elgin Baylor on the Lakers in 1968, great things were expected. In 1972, West and Chamberlain would lead the team to their first championship in the city of Los Angeles. But there was another important moment that season for Chamberlain personally. On February 16, Chamberlain scored his 30,000th career point, becoming the first player in the history of the NBA to do so.
6. Thomas Bradley is elected mayor in Los Angeles. Bradley is the first African-American to hold this position and is reelected four times, holding his position for 20 years.
Thomas J. "Tom" Bradley was the 38th Mayor of Los Angeles, serving from 1973 to 1993. He was the only African-American mayor of that city, and his 20 years in office mark the longest tenure by any mayor in the city's history. His 1973 election made him the second African-American mayor of a major U.S. city.
7. Arthur Ashe becomes the first African-American to win the British Men's Singles at Wimbledon.
On July 5, 1975, Arthur Ashe defeated the heavily favored Jimmy Connors to become the first black man ever to win Wimbledon, the most coveted championship in tennis.
8. Barbara Jordan delivers keynote address at the Democratic National Convention
Barbara Jordan a congresswoman representing Texas is the first African-American woman to deliver the keynote address at the Democratic National Convention.
sources:
http://mayortombradley.com/biography
http://www.wiltchamberlain.com/
http://www.americanrhetoric.com/speeches/barbarajordan1976dnc.html