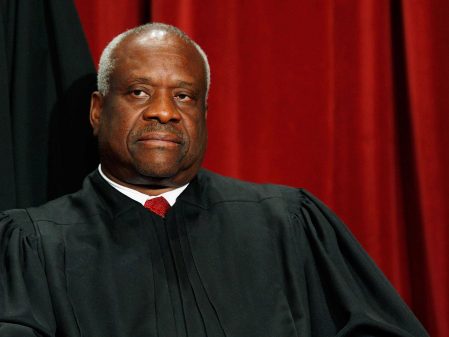 U.S. Supreme Court Justice Clarence Thomas is a conservative-leaning member who was appointed in 1991 by George H.W. Bush. He attended Yale Law and is the second African-American to sit on the U.S. Supreme Court. He is well-known for his conservative/libertarian leanings and is against Roe v. Wade as well as school desegregation.
Here are some other facts to know about Justice Clarence Thomas.
1. Clarence Thomas was born on June 23, 1948. He grew up in the small African-American community of Pin Point, Georgia, with his older sister Emma Mae and younger brother Myers Lee.
2. Before he became a justice, Thomas had pursued other ambitions. During high school, Thomas decided to transfer to St. John Vianney Minor Seminary, a first step to becoming a Catholic priest.
3. Thomas went to Holy Cross College in Massachusetts, where he studied English. During this time, he became active in many social causes, including protesting the Vietnam War and campaigning for civil rights. Thomas also helped establish a black student union.
4. After earning his law degree, his first most prominent post was as the chair of the Equal Employment Opportunity Commission (EEOC) in 1982. 
5. President Bush tapped Thomas to replace retiring Supreme Court Justice Thurgood Marshall, who was the first African-American to serve on the court, in 1991.
6. One of the most infamous moments in Thomas's career, which almost cost him his post, was when one of his former aides at the EEOC, Anita Hill, came forward and testified that he had sexually harassed her.
7. Thomas has opposed decisions in favor of affirmative action, such as the 2003 ruling that continued the program at the University of Michigan's law school.
8. Thomas is married to Virginia Lamp. The couple adopted his grandnephew Mark in 1997. Thomas also has a son, Jamal, from his first marriage to Kathy Ambush.
sources:
http://www.biography.com/people/clarence-thomas-9505658
http://usconservatives.about.com/od/champions/p/ThomasBio.htm