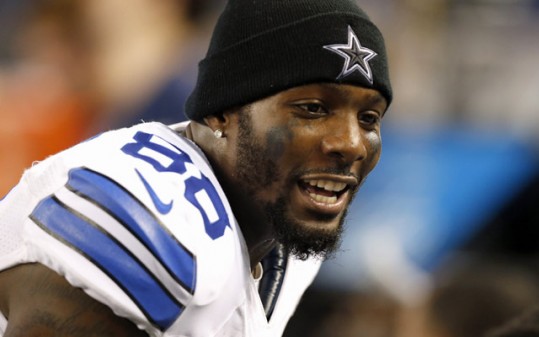 Dallas Cowboy fans know "Dez" Bryant. He is probably just about one of the greatest players to ever grace the team. Bryant is wide receiver for the team and he also played college football at Oklahoma State, where he earned All-American honors. He was drafted by the Cowboys in the first round of the 2010 NFL Draft.
Here are some other football facts about wide receiver "Dez" Bryant:
1. Born Desmond "Dez" Bryant in Galveston County, Texas, but eventually moved to Lufkin, Texas, where he attended Lufkin High School. As a junior, he caught 48 passes for 1,025 yards and 16 touchdowns.
2. Had a troubled upbringing, born to a 15-year-old mother who was arrested for dealing crack cocaine when he was age eight. He went on to live in eight different homes while at Lufkin High School.
3. Listed as the no. 9 wide receiver prospect in the class of 2007, and the second from Texas behind only Terrence Toliver.
4. Recruited by numerous major programs, including most Big 12 schools, Bryant took official visits to Texas A&M, Oklahoma State, and Texas Tech, before committing to the Cowboys.
5. Announced his intentions to enter the 2010 NFL draft in November, 2009.  He was widely believed to be the best wide receiver available and to be targeted by the Denver Broncos (11th pick overall), who traded their Pro Bowl receiver Brandon Marshall to the Miami Dolphins prior to the draft.
5. Reached an agreement on a five-year, $70 million contract that includes $45 million of guaranteed money and a $20 million signing bonus in 2015 with the Dallas Cowboys.
6. Sold the most merchandise for a wide receiver and 5th most overall merchandise with only Tom Brady, Peyton Manning, Russell Wilson, and Aaron Rodgers selling more than Bryant.
7. Sued by Texas state senator Royce West for damaging a rented house in DeSoto, Texas. Damage totaled over $60,000 on June 22, 2016.
8. Father of two sons, Zayne, 7, and Dez, Jr., 4.
sources:
http://americanfootball.wikia.com/wiki/Dez_Bryant