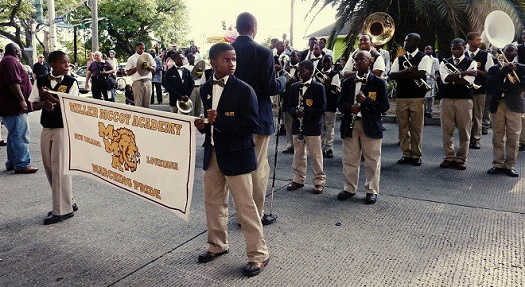 The Miller-McCoy Academy for Mathematics and Business was the first public all-boys school in New Orleans, Louisiana. The school was created during the city's rebuilding efforts post-Hurricane Katrina in 2008.
1. The Miller-McCoy Academy was named after Kelly Miller, the first black mathematics graduate student in the U.S., and inventor Elijah McCoy. The college prep academy served children from grades 5-12.
2. The Miller-McCoy Academy for Mathematics and Business was open admission, and served 530 urban male students in East New Orleans.
3. Dr. Tiffany Hardrick and Keith Sanders founded the academy in 2008. Dr. Hardrick obtained her education at Fort Valley State (B.S.), Arkansas State University (M.B.A., Ed.S), and Capella University (Ph.D.). Keith Sanders earned his degrees from University of Arkansas at Pine Bluff (B.S.) and Christian Brothers University (M.E.).
4. After being accused of ethics violations and cheating, the co-founders left the school in 2012. The school did not have a permanent principal until Eric Greely, Sr. became the principal in the summer of 2013. Andrea Thomas-Reynolds was the chief executive of the board of directors of McCoy-Miller until January 2014; that month, she was replaced by Walter Strong.
5. In November 2014, Patrick Dobard, the superintendent of the Recovery School District, stated that Miller-McCoy would fail its requirements for having its charter renewed. On the very same day, a 9th-grade student stated in a Louisiana Board of Elementary and Secondary Education meeting that a lot of violence and chaos was occurring at the school.
6. Around 2012, Miller-McCoy had 560 students, but by 2013, enrollment fell to 325. At that time, the entire 12th grade student body consisted of fewer than 30 students. By August 2015 there were about 375 students.
7. In December 2014, the school's board of directors announced the school was going to shut down. The school closed in May 2015.
source:
https://en.wikipedia.org/wiki/Miller-McCoy_Academy