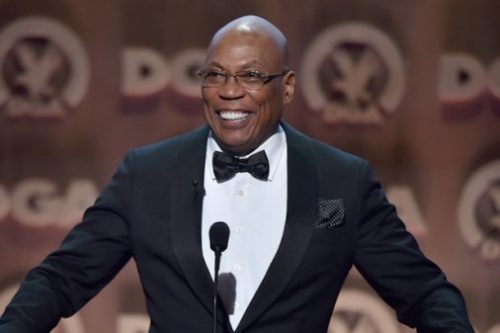 Paris Barclay is a well-respected television director, producer, and writer. He is currently serving his second term as the President of the Directors Guild of America.
Barclay is also a two-time Emmy Award winner and is among the busiest single-camera television directors; he has directed nearly 150 episodes of television to date, for series such as N.Y.P.D. Blue, E.R., The West Wing, C.S.I., Lost, The Shield, House, Law & Order, Monk, Numb3rs, and numerous others.
Here are a few other great facts about Paris Barclay:
1. Paris K.C. Barclay was born in Chicago Heights, Illinois. He attended La Lumiere School, a private college preparatory boarding school in La Porte, Indiana. Admitted on a scholarship, he was one of the first African-Americans to attend the school.
2. He attended  Harvard College after high school, where he was active in student musical theatre productions and the a cappella singing group, The Harvard Krokodiloes.
3. After graduating from Harvard, he worked as a copywriter and creative supervisor at Grey, BBDO, Marsteller, and Cunningham & Walsh. He later worked directing and producing music videos for several big names, including Janet Jackson and Luther Vandross.
4. He is most recognized for creating eight videos for LL Cool J, including "Mama Said Knock You Out."
5. Paris began his successful career in television with an episode of Angel Street. He was hired by John Wells, who was making his debut as an executive producer in the 1990s.
6. He has been openly gay since late in his college days. Barclay has been married to Christopher Mason since 2008.
7. Barclay wrote the book, music, and lyrics for the musical "One Red Flower," based on the collection Dear America: Letters Home From Vietnam. It has been produced in Boston, Seattle, Pittsburgh, and Washington D.C.
8. Barclay became the executive producer and primary director for the fourth season of FX's Sons of Anarchy, a role he continued through the seventh and final season in 2011.
9. He won two Emmy Awards as well as a award for directing episodes of N.Y.P.D. Blue. He has received numerous other accolades, including the Peabody Award and two NAACP Image Awards.
sources:
http://www.advocate.com/politics/marriage-equality/2008/10/08/love-stories-paris-barclay-and-christopher-mason
http://aaregistry.org/historic_events/view/paris-barclay-tvfilm-influence