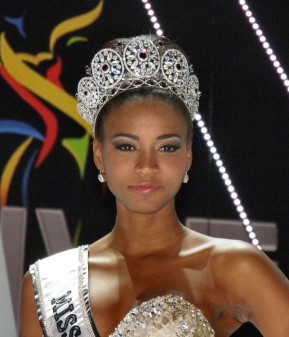 Beauty is celebrated differently across the globe. However, a pageant such as Miss Universe is an excellent way to view womanhood elegantly while withstanding the prejudices brought by different cultures and beliefs. These beautiful black Miss Universe queens have proven to different nations that any woman deserves the crown, may it be black or white.
Leila Lopes of Angola, Miss Universe 2011
Prior to the crown, this Angolan beauty had her business management degree from The University of Suffolk in England. She was known for her active advocacy against HIV and AIDS discrimination.  Before Miss Universe, she was hailed  as Miss Angola UK last 2010 making her legible to compete for Miss Angola 2011 as the British Angolan community representative, where she then later won the crown. She was then announced as the 60th Miss Universe in Sao Pablo, Brazil and the first ever Miss Universe from Angola.
Mpule Kwelagobe of  Botswana, Miss Universe 1999
This 1999 Miss Universe, model and businesswoman from Botswana was known for her fight for human health rights as well as her desire to put awareness in the fight against HIV and AIDS. She first joined but loss in Miss World 1997 before she was crowned as Miss Universe Botswana. The United Nations appointed Kwelagobe as a Goodwill Ambassador last 2000. She submitted a proposal to the United States Congress to set up a trust fund for AIDS prevention through the World Bank as an answer to AIDS' socioeconomic impact in Africa.
 

Wendy Fitzwilliam of Trinidad and Tobago, Miss Universe 1998
Fitzwilliam is a model, lawyer and TV personality and was crowned as the second Miss Universe from Trinidad and Tobago. Because of her work for the awareness of AIDS and HIV, she received the UNAIDS and UNFPA Goodwill Ambassador title from the United Nations. Also, she founded The Hibiscus Foundation in her home country last 1998 and through this, she continued her fight for the awareness of AIDS and even provided financial assistance to children's in  Trinidad.
These remarkable queens have used the coveted crown to influence the world in participating for greater causes. Their beauty made an initial impact but their actions opened doors for those who needed their help.