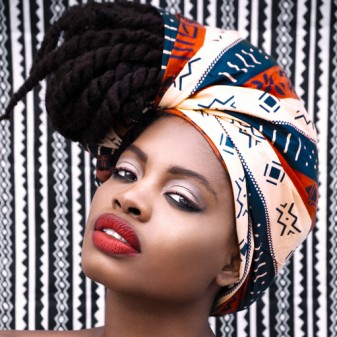 Haiti is well known for their fierce revolution against white supremacy and colonization. However, there is a current revolution taking place in fashion, with Haitian designers at the forefront. Incorporating their rich and colorful heritage, these designers are destroying barriers within the fashion industry.
1. Marie Jean-Baptist
Rue107, an online apparel store created in 2011 is the result of Mari Jean-Baptiste's genius and talent. Her clothing is unique not only for its style but also because it serves women in all shapes and sizes. Ms. Baptiste's clothing has been worn by icons such as Beyoncé, Nicki Minaj, and Amber Rose.
2. Stella Jean
This Haitian-Italian designer dynamically incorporates her heritages together creating bold statement apparel.  Stella Jean utilizes wax print fabric in conjunction with street style. This combination of styles creates a vibrant and unique look. Runway models and celebrities alike have been seen rocking these unique styles.
3. Valerie Blaise 
Valerie Blaise is a model and designer from Boston. Her label, Vavvoune offers leather goods and handmade bags.
4. Joelle Jean-Fontaine
Inspired by her family, Joelle Jean-Fontaine weaved that inspiration into her own clothing label, Kreyol.  Ms. Fontaine's designs integrate feminine styles like peplum tops and bells sleeves with fabrics of luxury.
5. Maureen Saturne 
After studying metalsmithing at the Fashion Institute of Technology, Brooklyn-born designer Maureen Saturne created her jewelry line. In 2013, Indiviju came to life. Saturne's designs offer unique, unisex Bohemian-like, handcrafted pieces.
6. Azede Jean-Pierre
A New York based designer, Azede Jean-Pierre has been featured in New York's Fashion Week (NYFW) and Paris Fashion Week. She gets her inspiration from strong women. Even former First Lady Michelle Obama has worn Ms. Jean-Pierre's amazing garments. What makes Azede Jean-Pierre's clothing more unique is the process of her clothing Jean-Pierre works with artisans from developing countries to make her high-end clothing.
7. Paola Mathe 
Paola Mathe is the stunning designer behind the gorgeous headwraps and accessories offered by her line, Fanm Djanm. The gorgeous bold patterns utilized in her designs are influenced by her Haitian heritage.
8. Hassan Pierre
Based in NYC and Miami, designer Hassan Pierre is taking the fashion game by storm. With two recognized prior collections, Hassan Pierre founded Maison de Mode with Amanda Hearst.
9. Kerby Jean-Raymond
Kerby Jean-Raymond is the designer behind Pyer Moss. His unisex brand consists of clear and unapologetic messages about Civil Rights and equality, mixing fashion and activism. The names of black men killed in police custody were featured in one of his most notable collections.
10. Venny Etienne 
Known for his "texture-blocking" techniques, Venny Etienne's designs are notable for their use of furs, cotton vinyl, and neoprene. Etienne's sportswear label works with clients to ensure his products fit perfectly.
11. Davidson Petit-Frere
Who can say, Kevin Hart, Steph Curry, and Jay-Z wore his suits? Davidson Petit-Frere can! With the help of real estate and learning about classic tailoring, Davidson Petit-Frere gained an appreciation for suits and designing them. Soon after, the brand Musika Frere was created by Petit-Frere and his business partner Aleks Musika.
12. Prajje Jr. Oscar- Baptiste
Prajje Jr. Oscar-Baptiste's internationally recognized work are tributes to classic 1950s tailoring and detail. In 2015, Oscar-Baptiste started producing his clothing in Haiti's manufacturing district. To think, that this designer put out his first collection as a high school sophomore. He is killing the fashion game early!
13. Abigail Petit-Frere
Starting off as a wardrobe stylist for Haitian music artists, Abigail designs came to her organically. Her eclectic womenswear brand, VBSTRVKTD is a result of appearing on E! Network's House of DVF reality competition show as a Global brand ambassador.
14. Monique Pean
Combining philanthropy and business savvy, Monique Pean's jewelry line is beautiful and impactful. Inspired by the death of her sister, Pean left her corporate career to become a jewelry designer. For each sale Pean makes, a portion of the sale is donated to sustainable products in developing countries.
15. Jean-Ralph Thurin
Trained at Parsons School of Design, Veteran bridal gown designer Jean-Ralph Thurin creates stunning Hollywood wedding gowns. He has been in business for over a decade. He spends a lot of time in Sommerville, NJ where he runs a successful design house.
By Rebecca Lacayo