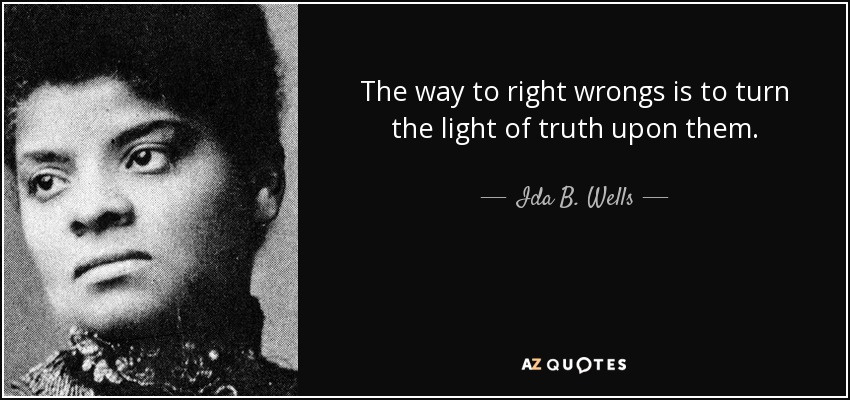 By Kelvin Muhia
Born a slave in 1862 in Holly Springs, Mississippi, Ida Bells Wells was the first-born child of Lizzie and James Wells. Unlike other African American families, Ida's parents had the potential to raise their seven children since her mother was a famous cook while her father was a skilled carpenter. Six months after Ida's birth, slaves living in the Confederate states were declared freemen by the Union thanks to the Emancipation Proclamation.
Ida's parents became active members of the liberal Republican Party during the Reconstruction period. Her father was an active member of the Freedman's Aid Society and was the founder of Shaw University, a school started to educate newly freed slaves. It was at this point that Ida Wells was able to receive early education before the death of her parents and her youngest sibling in 1878. She was forced to drop out of school to look after her siblings. She relocated to Memphis, Tennessee, to live with her aunt, where she landed her first job as a teacher in Rust College.
Ida B. Wells was a journalist who was well-known for her social and political heroism. Her speeches and protests, such as the 1890s anti-lynching crusade, were aimed at fighting prejudice regardless of the potential dangers she faced.
Here are three things you need to know about Ida B. Wells:
She refused to give out her seat to a white man in a train to Memphis
Having bought a first class ticket on a train ride from Memphis to Tennessee in May 1884, 22-year-old Ida Wells declined an order by the train's conductor to give up her seat to a white man. The train conductor together with two other crew members forcibly removed her from the train forcing Ida to bit one of the men on the hand.
After suing the Chesapeake & Ohio Railroad Company in court, Ida was awarded $500 as compensation. However, the case was later overturned by the Tennessee Supreme Court, forcing her to return the money and pay an additional $200 for damages caused to the train
She helped start the Early Civil Rights Movement
In 1896, Ida B. Wells assisted in founding several Civil Rights Organizations, such as the National Association of Colored Women, the National Association for the Advancement of Colored People (NAACP), and the National Rights League.
She also called on President Woodrow Wilson to end racial discrimination and later opened the first kindergarten for African American children.
After the train accidents, Ida began writing and led many anti-lynching crusades
After publicly criticizing racism in school, Ida B. Wells was fired from her teaching job and decided to turn to journalism. As a famous editor and writer, she was named secretary of the Colored Press Association and owner of the Memphis Free Speech and Highlight.
Most of Ida B. Wells's writings were published in most black newspapers stating that the whites used lynching to get rid of African Americans who tried to gain wealth. She also wrote of other evils happening in the South, such as black men being falsely accused of assaulting white women. After several brutal killings, Ida B. Wells wrote to President William McKinley urging him to put an end to federal crime and brutal racist attacks.
Ida B. Wells married Ferdinand Barnett in 1898 and together they had four children. On March 25th, 1931, at the age of 69, Wells died of kidney disease in Chicago, Illinois. Her fight against racism and prejudice was seen in her writings, speeches and protests which led to her being nicknamed the "Princess of the Press."