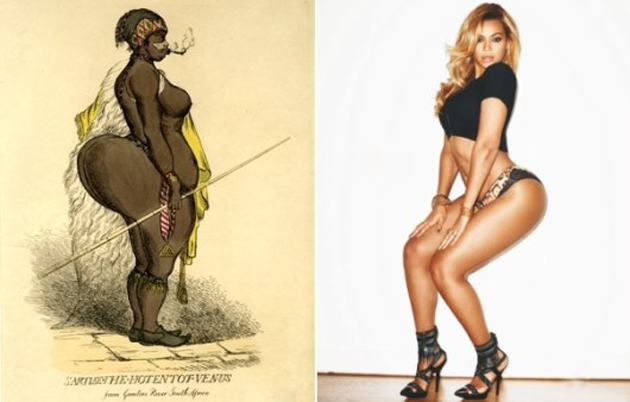 By: Melanie Cunningham
Recently social media has exploded over the purported report that Beyonce will produce, write, and star in a biopic about Saartjie "Sarah" Baartman, colloquially known as the "Hottentot Venus." Shortly after these rumors erupted Beyonce released a statement citing the information was false; however, there are still many reasons Beyonce and many other celebrities should not portray Baartman.
Sarah Baartman was a South African Khoisan woman that was captured by Europeans and paraded around in freak and side shows due to her large buttocks and "primally large" genitalia. Many women from her tribe were captured and forced to be in these shows; Baartman happened to be one of the most famous Khoikhoi women.
The fascination with her body created many social constructs surrounding the image and ultimately, the violation of the Black female body of enslaved African women across the world. Her image was viewed as grotesque and animalistic primed only for childbirth and to work, not seen as a standard of beauty as white women. Outside of the fact that Beyonce is not or has ever been outwardly vocal in the social issue of Black consciousness and black feministic theory, there are three major reasons that she should not move forward on this project.
1. Beyonce is not South African
Beyonce is not South African and her body type and skin tone does not resemble Sarah Baartman. The Hottentot Venus was a very statuesque woman with a very large posterior and genitalia. Native to the Khoisan tribe, Sarah Baartman was a dark-skinned woman toting a short afro, rather than tresses of Brazilian and Malaysian hair. This is similar to having a light-skinned Zoe Saldana, who identifies herself as Cuban and not Afro-Cuban, play Nina Simone.
2. Beyonce is not a good actress
Beyonce is not a good actress. Many of the films Beyonce has been featured or starred in have had lackluster performances on her part. Oftentimes, her performance is overshadowed by the other actors and actresses in the film. For instance, Jennifer Hudson's performance in "Dreamgirls" won her an array of awards. It would be a disservice to Sarah Baartman to not be played by an actress of a higher caliber in addition to an actress from her homeland of South Africa.
3. Beyonce has made her fame and prestige from her image and selling sex
Beyonce has made her fame and prestige from her image and selling sex. Conversely, Sarah Baartman had no control over the objectification of her body. She was paraded around naked, and lived in subpar human conditions like a sideshow animal. In turn, she was portrayed as an animal with chains around her neck like a lioness or tigress in the circus. Beyonce's ability to use her body to freely assimilate into popular culture and have women across the world envy her sex appeal is the antithesis of what Sarah Baartman endured during her captivity.
Related Articles:   http://madamenoire.com/606740/theres-a-rumor-beyonce-is-working-on-a-sarah-baartman-project-south-african-chief-said-shes-not-worthy/
http://www.bbc.com/news/magazine-35240987
http://www.theguardian.com/film/2016/jan/06/beyonce-rep-denies-film-freak-show-victim-saartjie-baartman