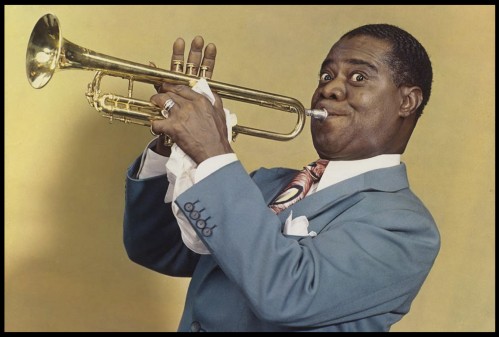 Louis Daniel Armstrong, nicknamed Satchmo, Satch or Pops, was an American trumpeter, composer, singer and occasional actor who was one of the most influential figures in jazz.
Learn more about Armstrong below:
1. Armstrong often stated that he was born on July 4, 1900, a date that has been noted in many biographies. Although he died in 1971, it was not until the mid-1980s that his true birth date, August 4, 1901, was discovered by the researcher Tad Jones through the examination of baptismal records.
2. He attended the Fisk School for Boys, where he most likely had early exposure to music.
3. Although he tried to help provide for his family with the money he got from selling newspapers, delivering coal, and singing on the street, his mother still worked as a prostitute.
4. After dropping out of the Fisk School at age eleven, Armstrong joined a quartet of boys who sang in the streets for money.
5. Armstrong developed his cornet playing skills by playing in the band of the New Orleans Home for Colored Waifs, where he had been sent multiple times for general delinquency.
6. Armstrong started to work at Connie's Inn in Harlem, chief rival to the Cotton Club, a venue for elaborately staged floor shows,[27] and a front for gangster Dutch Schultz.
7. How did he pronounce his name? Was it Louis, the U.S. way, or Louie, as the French say it? Experts at the Louis Armstrong House Museum listened to home-recorded tapes in the collection and said the artist pronounced his name the American way, but Louie was a nickname to which he answered. In 1933 he made a recording called "Laughin' Louie." On his 1964 record, "Hello, Dolly," he sings, "This is Louis, Dolly."
8. For nearly 10 years, Armstrong refused to play in his hometown of New Orleans because it did not allow integrated bands. He returned in 1965 after passage of the Civil Rights Act.
9. His career spanned five decades, from the 1920s to the 1960s, and different eras in the history of jazz.
source:
Video: YouTube
https://www.biography.com/people/louis-armstrong-9188912#!