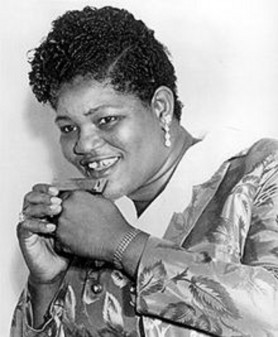 Willie Mae "Big Mama" Thornton was an American rhythm-and-blues singer and songwriter. She was the first to record Leiber and Stoller's "Hound Dog", in 1952, which became her biggest hit, staying seven weeks at number one on the Billboard R&B chart in 1953 and selling almost two million copies.
Read on to learn more about "Big Mama" Thornton:
1. Thornton was born on December 11, 1926 in Ariton, Alabama.
2. Her mother died young, and Willie Mae left school and got a job washing and cleaning spittoons in a local tavern.
3. She left home in 1940 with the help of Diamond Teeth Mary, joined Sammy Green's Hot Harlem Revue and was soon billed as the "New Bessie Smith."
4. Given her nickname, "Big Mama," by Frank Schiffman, the manager of Harlem's Apollo Theater, because of her strong voice, size, and personality.
5. Willie Mae Thornton toured the south as a blues singer in the 1940s, then settled in Texas.
6. Her style was heavily influenced by gospel music, which she grew up listening to at the home of a preacher, though her genre could be described as blues.
7. She wrote and sang blues songs, played the harmonica and taught herself to play the drums.
8. In 1953, she had a hit with "Hound Dog", the song later made even more famous by Elvis.
9. "Big Mama" Thornton moved to California in the 1960s and continued to tour throughout America and Europe.
10. She toured with the American Folk Blues Festival in Europe, where her success was notable "because very few female blues singers at that time had ever enjoyed success across the Atlantic.
11. By 1969, Thornton had signed with Mercury Records, which released her most successful album, Stronger Than Dirt, which reached number 198 on the Billboard Top 200 record chart.
12. Thornton was found dead at age 57 by medical personnel in a Los Angeles boarding house on July 25, 1984. She died of heart and liver disorders due to her longstanding alcohol abuse. She had lost 255 pounds in a short time as a result of illness, her weight dropping from 350 to 95 pounds.
13. In 1984, she was inducted into the Blues Foundation's Hall of Fame.
source:
https://www.tshaonline.org/handbook/online/articles/fthpg